The Mammoth Garland
By Richard Sheaff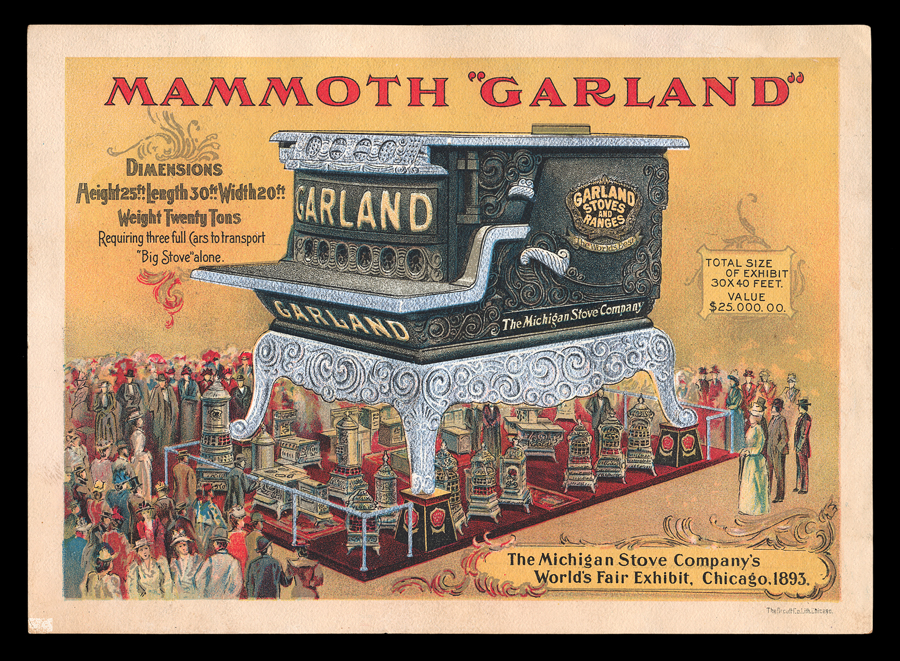 Perhaps the most spectacular exhibit at the 1893 World's Columbian Exposition held in Chicago was the truly giant replica of a cast-iron stove at the Michigan Stove Company booth, in the Manufactures Building. Constructed and sculpted of painted oak, the huge stove had room underneath to display many real iron stoves, room enough for visitors to walk through. The mammoth 25 x 30 x 20 foot "Garland" model weighed fifteen tons. It was described as "The World's Largest Stove". The Michigan Stove Company was one of eighty stove manufacturers who exhibited at the fair.
Strangely, this giant stove traveled a fair amount and existed almost to this day. The Michigan Stove Company moved it back to their Detroit ("Stove City") headquarters, luckily not long before the WCE's Manufacturers Building burned down in 1894. It was erected in front of the building. That headquarters building burned down in 1907 but the big stove survived and was moved to a different location. (That new location was in an area of Detroit known as "Bloody Run", site of a major 1763 battle between the British and Chief Pontiac's warriors.) After corporate changes and mergers, in 1927 the replica was mounted on the roof of the factory. In 1957 it was leased by Schaefer Bakeries for advertising purposes; in 1965 it was put on display at the Michigan State Fairgrounds. Because of deterioration, it was dismantled in 1974 and moved into storage in Detroit's Fort Wayne Military Museum. In 1998, after a $300,000 fundraising campaign, the State Fair organization had it restored and put back on display at the fairgrounds. The 2000 convention of the Antique Stove Association was held underneath "The Mammoth".
Alas, on Saturday night August 15, 2011, a thunderstorm lightning strike set it afire, and it was destroyed.
Garland stoves, under one corporate configuration or another, were manufactured up until 1955. Julia Child cooked on one, which was put on display at the Smithsonian Institution in 2001.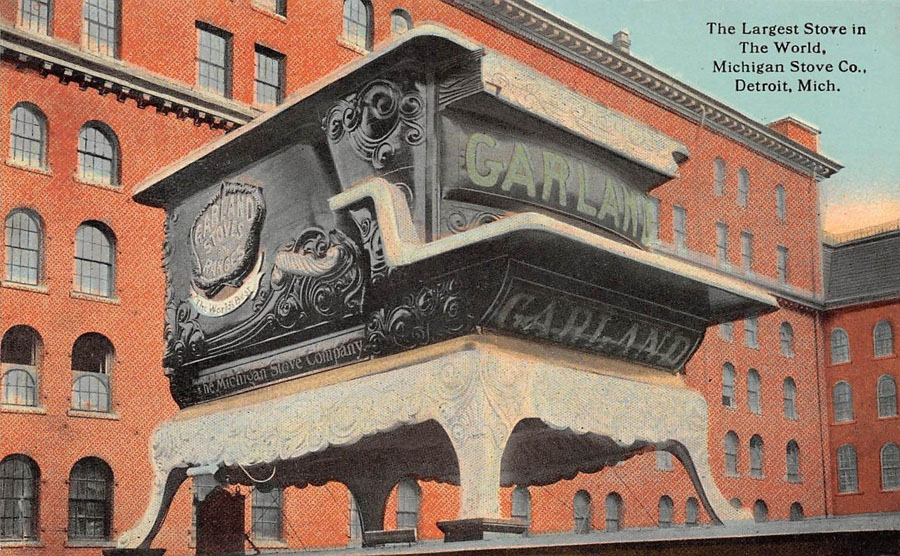 As a collecting topic, iron stoves are a rewarding area. There are dozens of interesting trade cards, and all sorts of other material readily found . . .