Pig Scalders and Such
By Richard Sheaff
Back when America was largely an agricultural nation, folks were accustomed to personally processing their crops and their animals into food for the table. As the 19th century moved along and industrialization increasingly created manufactured tools and equipment, farm machinery became a major sector of the economy. With the development of chromolithography, trade cards and other color advertisements flooded the country. Many of these were targeted to farmers.
For some reason, trade card makers seemed to have a particular fondness for using anthropomorphic pigs in their visuals. I suppose that, for one thing, pigs are inherently a bit comical, likable. And they are quite intelligent, a fact not lost on those who lived in proximity to these snorters. Producers of ham often featured comical cartoon pigs; the beginning, perhaps, of making meat neatly packaged at the grocery store an abstraction removed from the necessary slaughter of living creatures?
The "agricultural furnace" or "farmers' boiler" was a specialized cast iron stove useful in many ways on the farm. Fueled by either coal or wood, these stoves could be used inside or outside, to cook animal feed (like corn or soybeans), scald the bristles off off pigs after slaughter, boil water, cure meat, steam food, make maple syrup and help with various other farm activities.
One manufacturer of such agricultural furnaces who issued numerous trade cards was J. S. & M. Peckham of Utica, NY. Peckham's promotional materials state that their furnace/boiler was a useful appliance for "butchers, farmers, cheese-makers, stock raisers, hotel-keepers, bakers, brewers, chemists, druggists, dyers, painters, laundries, chandlers and for various other manufacturing and mechanical purposes".
Peckham was also one of the many companies that featured anthropomorphic pigs, apparently cannibalistic, in this case. What swine!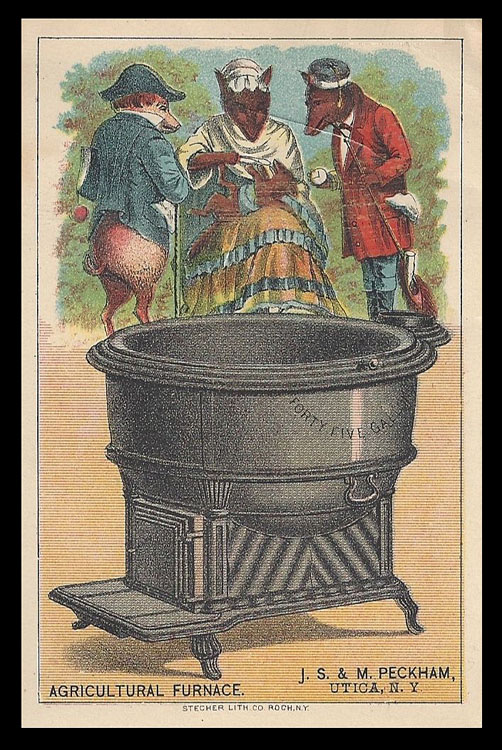 Here is an original Peckham stove recently offered on e Bay . . .
Such stoves were made in a wide variety of configurations, round, oval and rectangular . . .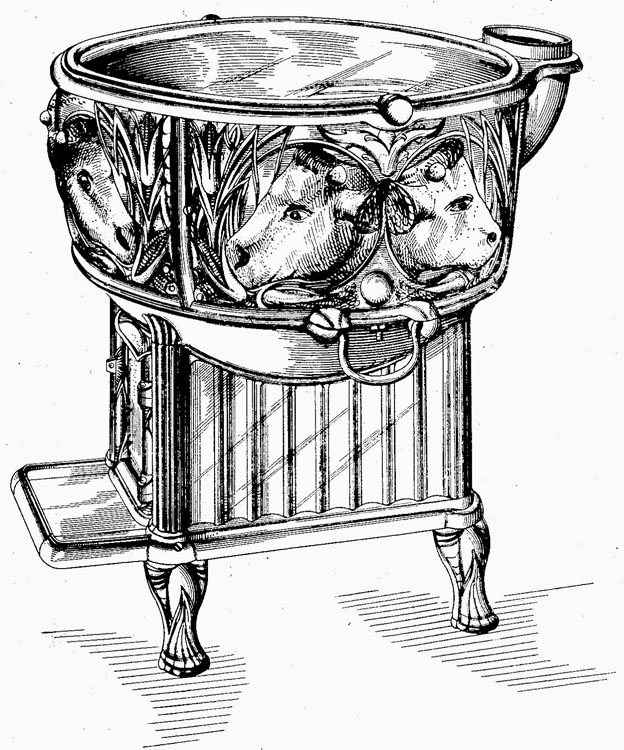 For those interested in an in-depth look at this subject, I recommend a posting by Howell Harris on the stove history blog, at:
http://stovehistory.blogspot.com/2014/01/jordan-motts-great-hog-boiling-success.html