Woman's Home Guard
By Richard Sheaff
For a variety of reasons, St. Louis, Missouri became a leading center for aviation in the early 20th century.Back in 1859, balloonist John Wise set a long-standing record by flying some 1,150 miles from St. Louis to Henderson, NY. Captain John Berry and others experimented in St. Louis with balloons and dirigibles. Albert Bond Lambert and Andrew Drew formed an early aero club and airfield. In 1912, Thomas Benoist founded a company to manufacture airplanes. In 1912 Bert Berry, the son of Captain John Berry, made the first successful parachute jump, releasing himself after hanging from a Benoist airplane (below).
Captain John Berry became known as "The Dean of American Aeronauts". In 1917, he set out to establish a corps of woman warriors, offering training in "aviation, ballooning and automobiling" to be known as the Woman's National Aviation Home Guard (see promotional blotter at top left). An article on the front page of the November 10, 1917 issue of The St. Louis Republic newspaper announces the formation of this "Death Legion of U. S. Women", reporting that 1,000 St. Louis women had already signed up, and that 1,000,000 women were anticipated countrywide. Members of this home guard would "give their lives if necessary and will do the work of men in order that this country may win the world war. The game spirit among women that resulted in the female 'death battalions' in Russia, the organizers say, is responsible for the idea."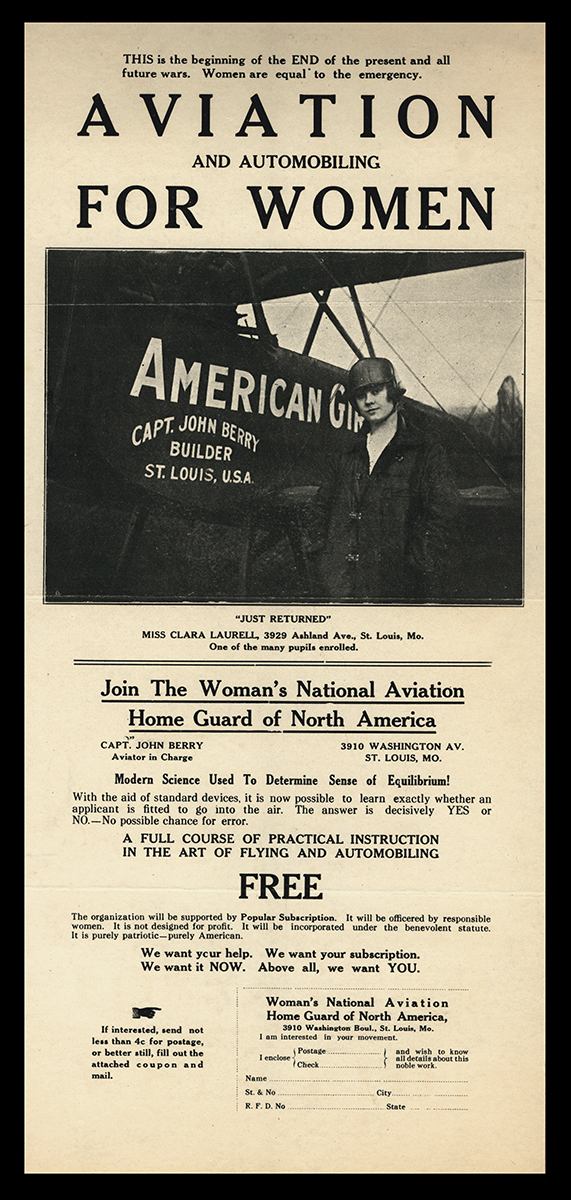 The November 25, 1917 issue of the paper featured several halftone pictures of women in the Woman's National Aviation Home Guard donning the uniforms of the corps. "A million women qualified to act as mechanical engineers, automobile drivers and airplane pilots will be available for service at home or abroad when the organizations is completed." ". . . branches have been established in Arkansas, Pennsylvania, Colorado, Oklahoma and Texas." The May 12, 1918 issue shows a number of St. Louis women—including some identified as members of the Woman's National Aviation Home Guard—taking rifle target practice at a local shooting range. The broadside at top right (courtesy of the Missouri History Museum, St. Louis) features a photograph of "Miss Clara Laurell . . . One of many pupils enrolled". Captain Berry is listed as Aviator in Charge.
After this flurry of media attention, the whole program seems to have disappeared from view.