The Three Ms
By Jeff Willett
The Three M's: Hollywood's Platinum Blonde Bombshells of the 1950's and 1960's
In the 1950s and 60s, movie studios used the sex appeal of glamour girls to attract audiences to their motion pictures. In this era, a trio of peroxide-enhanced blonde bombshells emerged from American cinema. They played comedic and dramatic roles that capitalized on their physical appearance. Their names (originally) were Norma Jean Mortenson, Vera Jayne Palmer, and Joan Lucille Olander. They became better known as Marilyn Monroe, Jayne Mansfield, and Mamie Van Doren. The press often referred to them as "The Three M's."
Marilyn Monroe, who appeared in over 30 films from 1947 to 1962, became one of the most recognizable women in history. Movie aficionados can easily visualize her iconic scenes: innocently catching the updraft above a subway grating with her billowing white skirt in 'The Seven Year Itch" or playfully singing "Diamonds are a Girl's Best Friend" to a male entourage in her hot pink gown and opera gloves in "Gentlemen Prefer Blondes."
Though she had bit parts in movies in the late 1940s, her career took off in the early 1950s, propelled further by controversy over some nude calendar photos and a romance with another American legend, baseball's Joe DiMaggio.
Monroe's persistence in attempting to control her career lead to conflicts with her employer, 20th Century Fox, and a suspension in 1954. That suspension prompted her to start her own production company (Marilyn Monroe Productions) in the same year before returning to a Fox contract under her terms. Monroe was not satisfied playing the dumb blonde and remained focused on becoming a well-respected actress.
She lead a highly-publicized, troubled life, which ended tragically in 1962, when she was found dead of a barbiturate overdose at age 36.
Jayne Mansfield, a former beauty-pageant queen and model, worked in a few pictures for Warner Brothers before gaining notoriety on Broadway, playing a character parodying Marilyn Monroe in "Will Success Spoil Rock Hunter?" a role that Van Doren had turned down. She was sometimes referred to as "a poor man's Monroe." She appeared in over two dozen films from 1955 to 1967. Among these were "The Girl Can't Help it," "The Wayward Bus," "Promises! Promises!" and the movie version of the Rock Hunter play.
She was preoccupied with fame and attention, yet she was known to be highly intelligent, reportedly with an IQ of 163 (equivalent to Albert Einstein's). Despite her intelligence, she embraced the vacuous roles that lead to her popularity. Today, though, she is referenced more as the mother of Mariska Hargitay (of TV's Law and Order: SVU) rather than revered for her success as an actress. Her popularity dwindled after Marilyn's death, and like Marilyn, her life ended too soon, cut short by an auto accident in 1967 at the age of 34.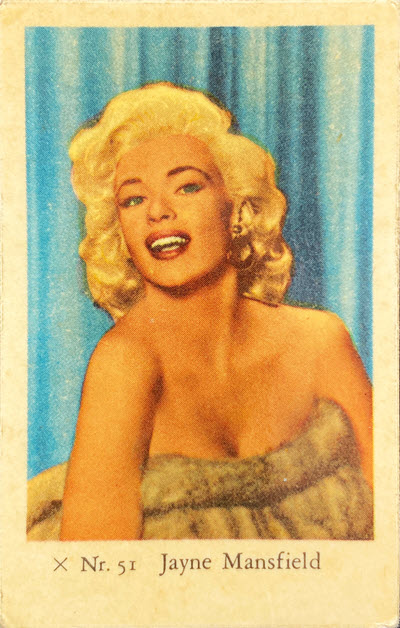 Mamie Van Doren, with over 40 movie credits (from 1951 to 2002), started as Universal International's version of Monroe. Eventually, she became cast in several 'bad girl' roles and appeared in movies that promoted 'controversial' rock 'n' roll music, incorporating those songs into her on-screen musical numbers. She ultimately became known as a B-movie celebrity and appeared in such films as "Untamed Youth," "College Confidential," "Sex Kittens Go to College," "The Navy vs. the Night Monsters," and "Voyage to the Planet of Prehistoric Women." Despite the perception that her film career was less prestigious than her counterparts, she co-starred in numerous pictures with prominent actors of the era (Tony Curtis, Mickey Rooney, Donald O'Conner, and Clark Gable, to name a few). In her autobiography, she describes her many affairs with celebrities and her off-screen interactions with her peers, Marilyn and Jayne.
Van Doren is the only one of the three actresses to have survived past the 1960s. Now, in her 90's, she has remained creatively active over the last half-century-plus: writing, acting, singing, and frequently posting on social media.
The three had brief social encounters with each other off-screen. Still, professionally, only two appeared in a single film together (Mansfield and Van Doren in 'The Las Vegas Hillbillies in 1966).
Today, Monroe's films infrequently appear on classic movie channels, while surprisingly, the works of Mansfield and Van Doren are rarely shown outside of YouTube clips or various streaming services.
Ephemera displaying the allure of these three American sex symbols exists in many forms.
Magazines (cover photos and feature articles)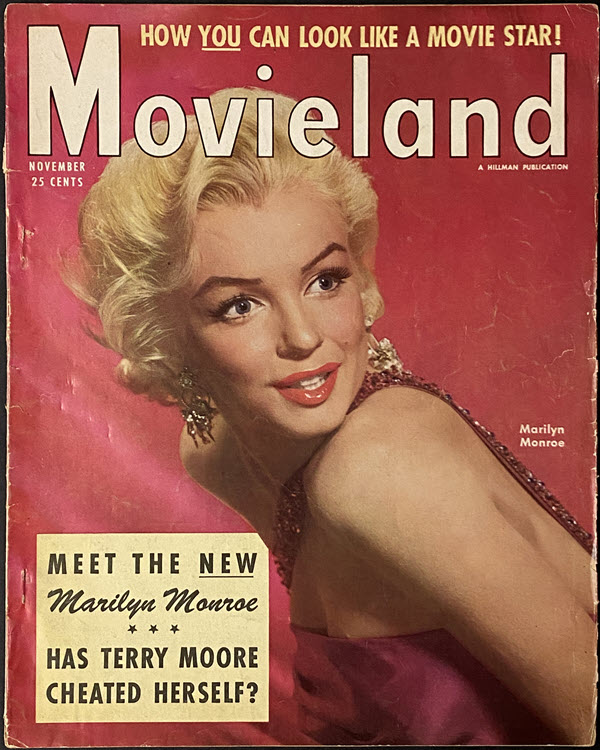 Movie/Theatrical Stills (publicity-related photos of the actors on-set or off-set)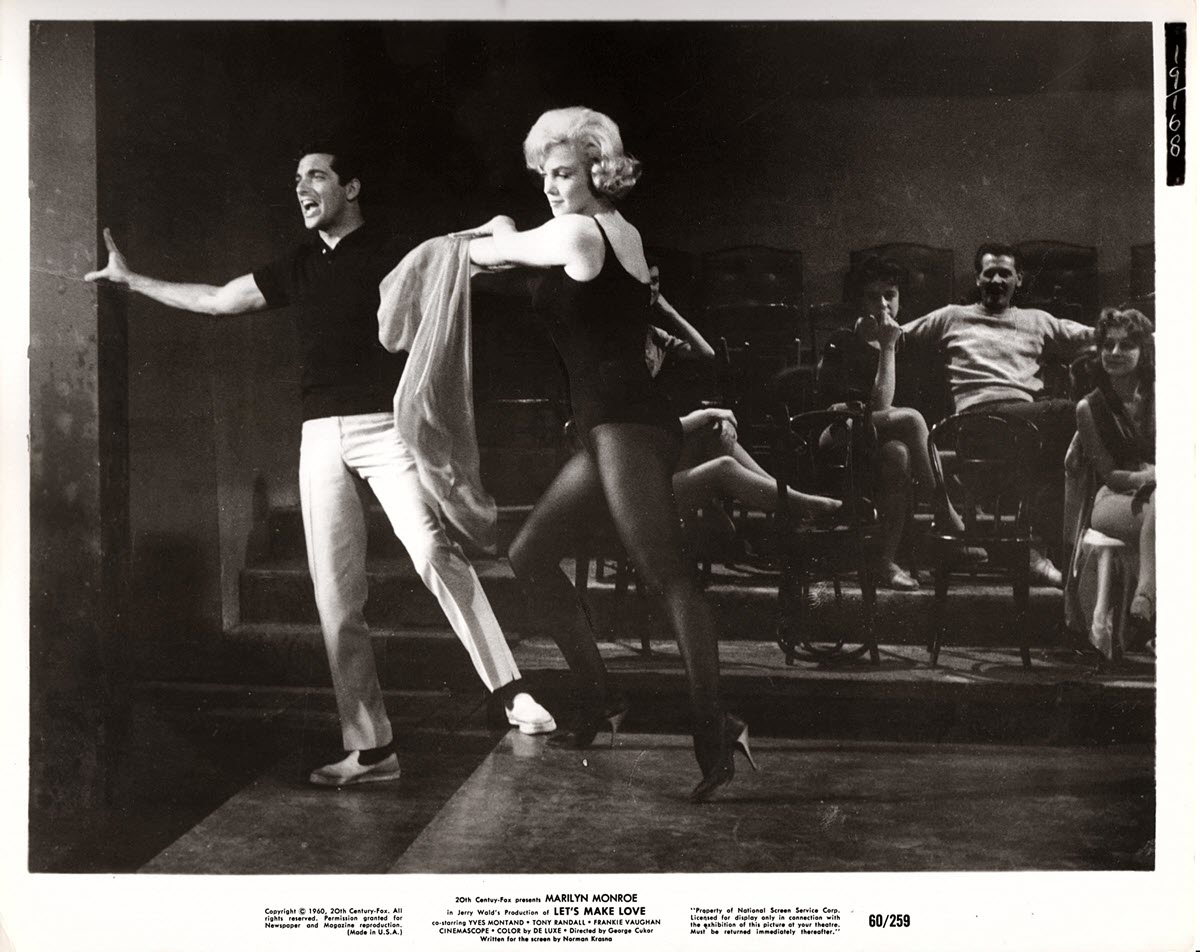 Lobby Cards (sets of promotional photos on heavy card stock that were distributed to theaters to put in the lobby to promote the films)
Pressbooks, which film distributors created to promote a film, and included advertising images for newspapers, facts about the film and cast, and various ideas to help promote the movies:
Postcards, Arcade Cards, Trading Cards, Sheet Music, Posters, Stamps, etc.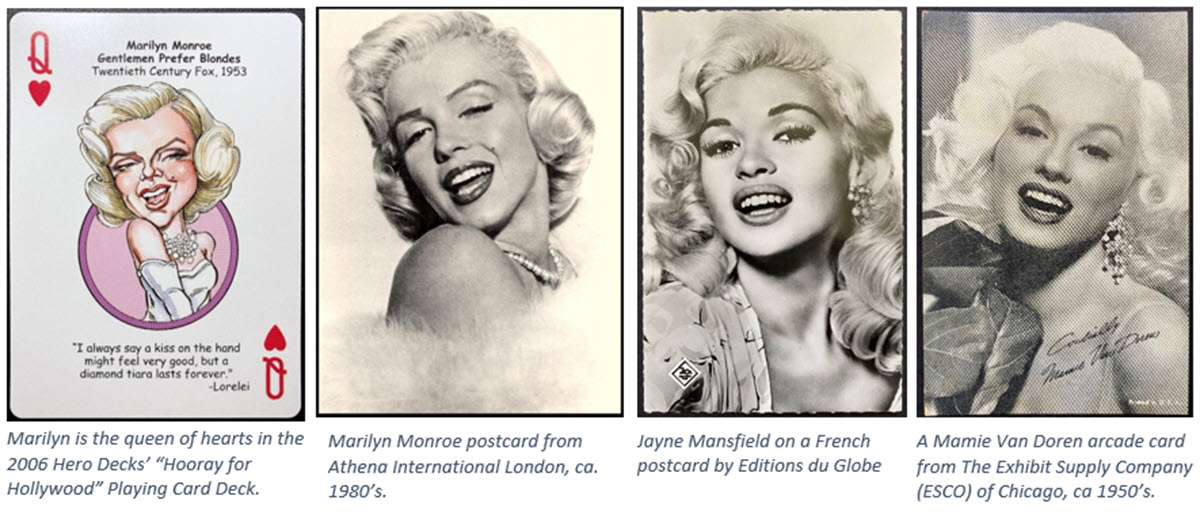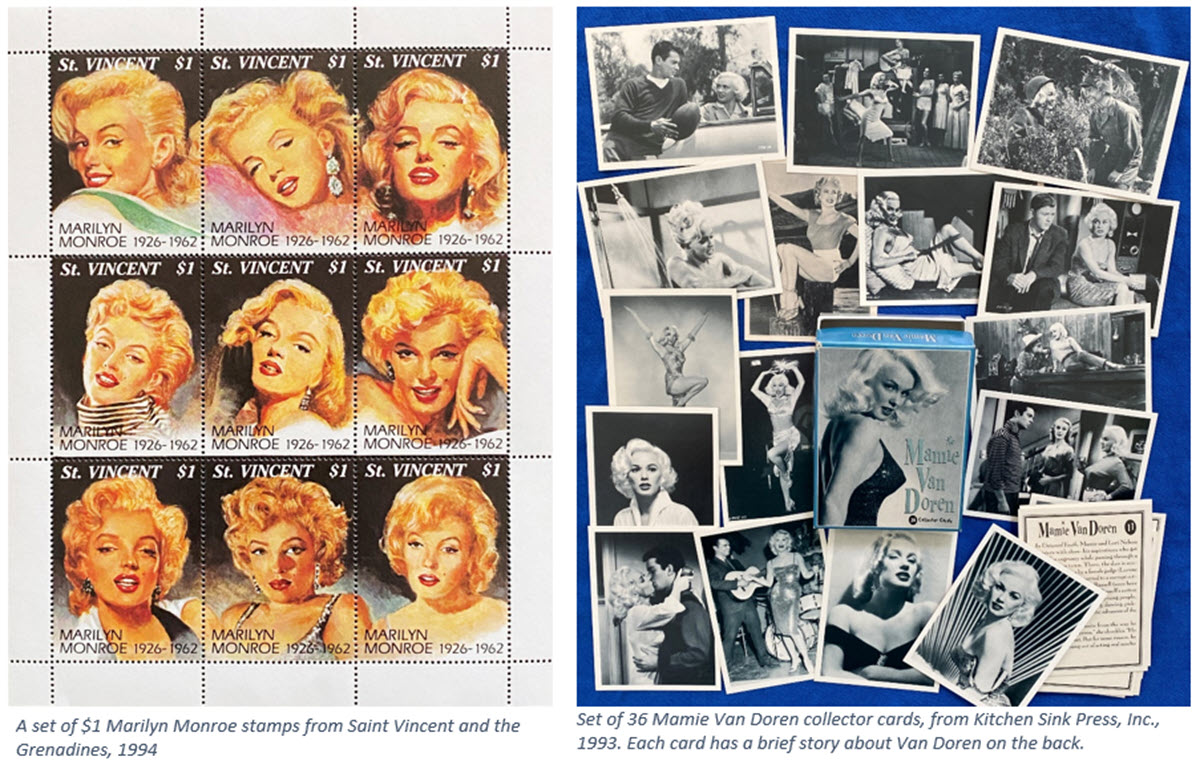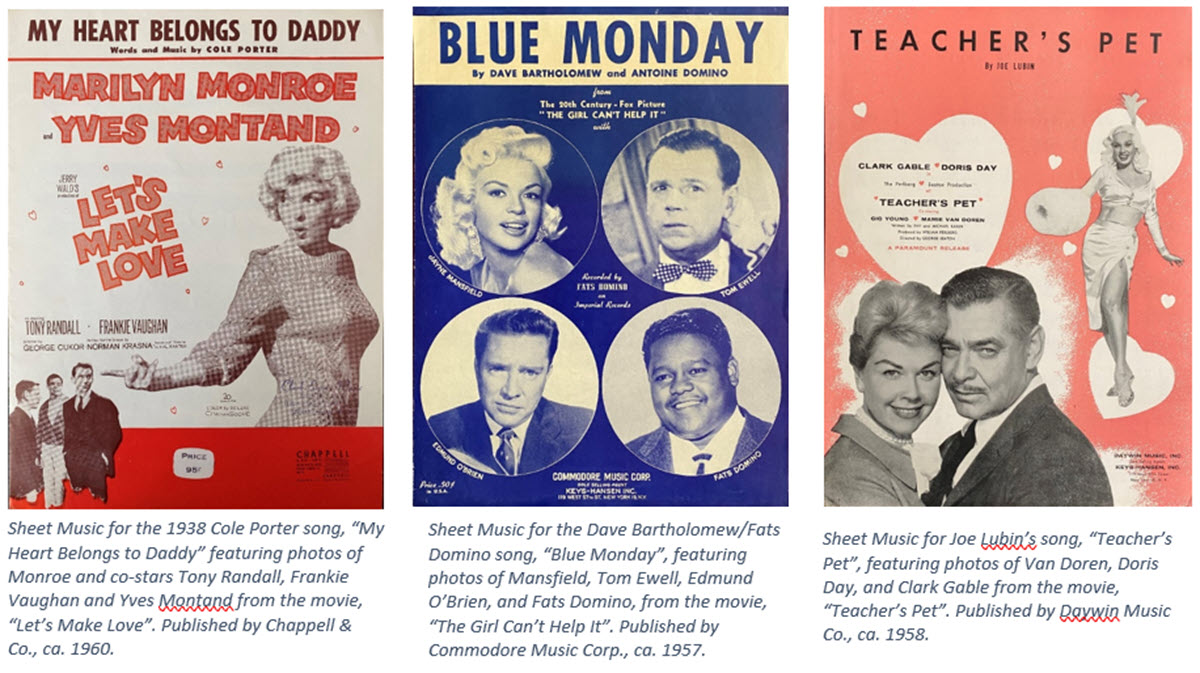 Ephemera captures snapshots of a point in time, so what does this ephemera say about the period in which these women rose to fame, and what do their images convey?
On the negative side, we are certainly reminded there was a fair amount of male chauvinism in this post-WWII/pre-women's-movement era. Images show a preoccupation with a particular type of exaggerated female figure, and sex appeal became an exploited gimmick. The women were often put in tight or revealing costumes as a gag, prompting audiences to laugh at the distracted or infatuated male onlookers. One has to admit that, unfortunately, movie roles for these women were somewhat limited compared to today.
On the positive side, as a movie fan, I like viewing and collecting these images, which bring back memories of the films they starred in, the characters they portrayed, and the random musical numbers they performed. Collectors know that Marilyn Monroe's ephemera is generally the most expensive, and if one is looking for autographs, only Van Doren's is easily attainable.
My introduction to acquiring this type of ephemera began at an estate sale, where I contemplated buying some old playing cards (singles, which some ephemerists collect). At one point, the seller, clearly wanting to unload them onto someone else, challenged me to" maybe make a picture out of them." Since they were cheap, I figured I would take on that endeavor.
With help from freeware imaging software and inspiration from watching "Some Like it Hot" on TV that week (to define a subject), I found I had enough cards to make a fairly decent mosaic. I realized that sometimes ephemera can be repurposed to create an entirely new collectible item. So, included at the end here (though you may have to step far away from the screen or squint your eyes to see the image well) is my 121-card salute to Marilyn, Jayne, and Mamie, "The Three M's."
The image on the left (below) is the same as the image on the right. It is based on a picture of Marilyn Monroe, which could resemble any of "The Three M's".
Mosaic of 121 playing cards (below). The original artwork measures 38" x 25".