Trade cards were a late 19th century phenomenon, and postcards were an early 20th century craze. In the period from, say, 1890 to 1910, all sorts of interesting transitions occurred as businesses moved away from advertising trade cards to advertising postcards. One interesting aspect was that some cards, which appear on the image side more or less exactly like a typical trade card, are seen on the flip side to be postcard.
A brief recap: The earliest known postcard, I have read, was postmarked in December of 1848. In 1861 one John Charlton of Philadelphia was granted a patent for a private postal card; H. L. Lipman took over that patent and sold his "Lipman's Postal Card" until 1873, when official government postcards with imprinted postage were issued. Abroad, non-governmental private postcards were first issued in 1869. In the USA, writing was not permitted on the address side of any mailed card until 1907. In postcard collecting, the "Pioneer Era" is considered to be pre-1898. Pioneer postcards almost always have an undivided back (the address side) . . . there is no vertical line printed in the middle, as nothing but an address was allowed.
The "Private Mailing Card Era" was from May 19, 1898 to December 24, 1901, a period in which private postcard makers were allowed to imprint "Private Mailing Card" on an undivided back. On December 24, 1901, postcard makers were permitted to use "Post Card" or "Postcard". Writing on the address side was still not allowed, so all cards mailed up through this period had any message written on the face/image side of the card. Usually a blank area was provided to leave room for any personal message.
From December 24, 1901 until March 1, 1907 was the "Undivided Back Era"; on March 1, 1907 came the "Divided Back Era", with writing permitted on the address side, a vertical line having been printed down the middle . . . address to the right, any message or advertising to the left.
During this period of transition(s), interesting examples can be found of advertising cards which had full-image graphics on the front—they looked just like late 19th century trade cards, no blank area for a message—but bore postcard backs, either undivided or divided. Clearly advertisers were in the process of figuring put how to continue promoting with ad cards as the world around them was dropping trade cards and adopting postcards.
This postcard from New Home Sewing Machines is indistinguishable in style from several pure trade cards put out by the same company in the same time period. It is a trade card that has been given a postcard back.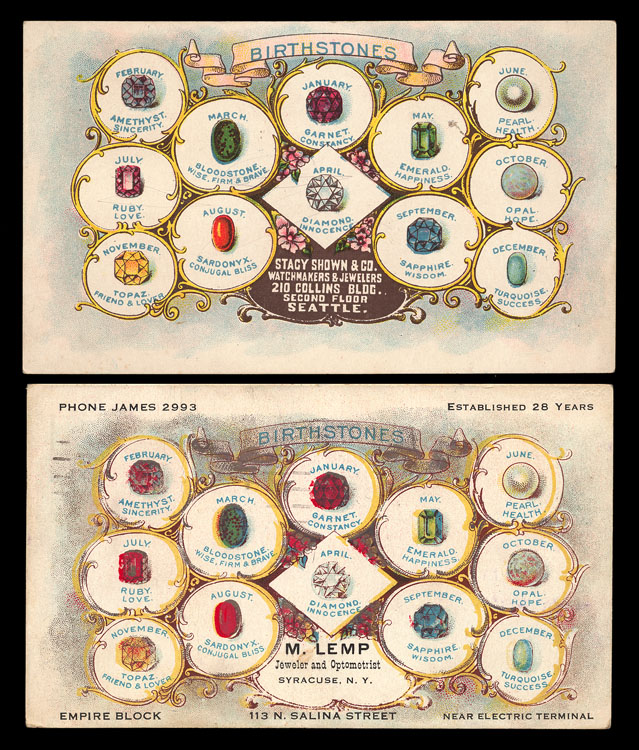 A similar example. The top card is a stock Victorian trade card used by many different jewelers and other firms, with either a blank back or advertising text. The bottom card is a postcard, mailed with postage stamp affixed in 1919. Exact same design.
Canadian card, issued by Tiger Tea. The address side is mostly filled with printed text and price information, with a small space left for an address and a smaller space for the stamp.
This one (as with others in a series from the same company) has a divided back, left side bearing printed advertising. Mailed in 1909.
Divided back postcard, unmailed.
Divided back postcard; on the address side, printed advertising text runs across both sides of the card leaving no space for any address, so it seems that it may have been a handout version, rather than all such cards being put into the mailstream.
Undivided back "Post-A-Card", unmailed.
Divided back, postmarked 1910.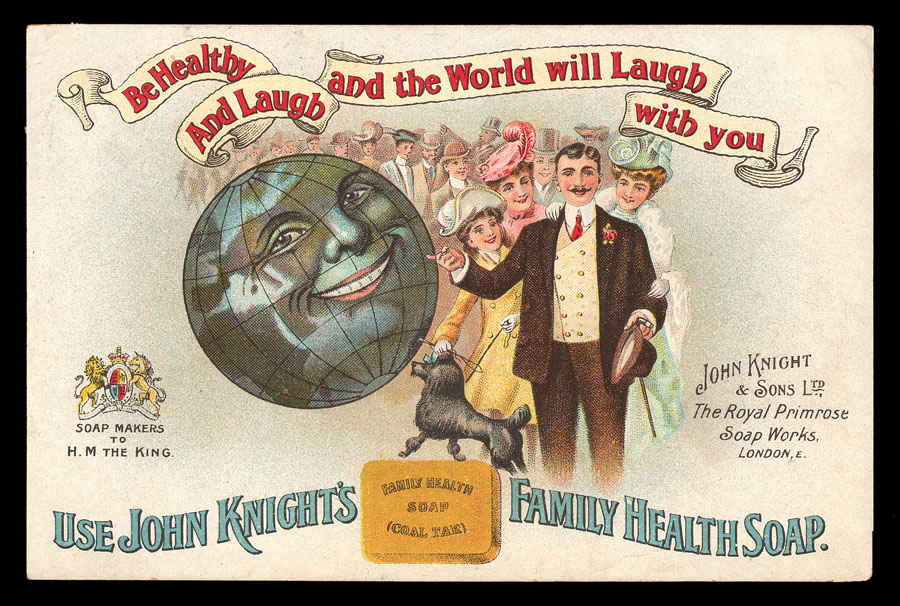 British postcard, divided back, postmarked 1905.