Stitching Together a Catchy Tune . . .
By Richard Sheaff
In our modern world of iPods, CDs, internet streaming services, live concerts, NetFlix, 3-D movies, video games and a thousand other ways to be entertained, we rarely stop to realize how very different the world was in centuries past. Back in the proverbial day, infinitely less entertainment was to be found; often, if folks wanted entertainment, they made it themselves.
I give you The Garvie & Wood Patent Musical Sewing Machine Cover. As this woodcut from a 19th-century trade card makes clear, a device could be added onto the top of a treadle sewing machine, such that pumping the cast iron foot treadle would power a perforated paper roll through a device that would output music. Note the perforated paper roll banner at the bottom. Mom pumps and the kids can dance.
The firm of Garnie & Wood was located at 12 Union Square in NYC. They exhibited this product at the American Institute Fair, held annually in New York.
Theirs was not the only such device, known as a dulciphone, or an organette. The Monroe Organ Reed Company produced the 14-note musical sewing machine cover below (Lot 81in the August 2013 sale of Aspire Auctions).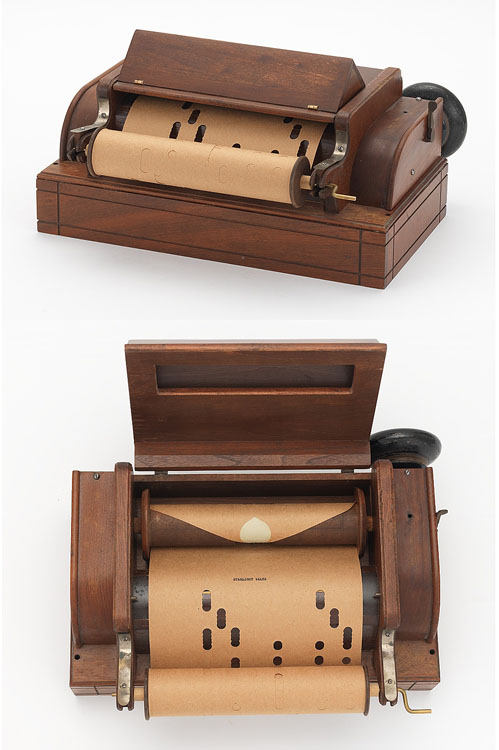 Here is a video of this machine in action:
A sewing machine piece of sheet music, The Battle of the Sewing Machines, can be found in the collection of the Library of Congress (I wonder if one could buy a roll of this particular tune to, in fact, play on a sewing machine?) . . .
Nowadays, for those with a nostalgic bent, the irrepressible Chinese offer a music box in the form of an old-timey treadle sewing machine, which somehow seems to bring things full-circle . . .