On Her Mark!
Women's Sport Trade and Trading Cards
My collection specializes in women's sports trading cards that were printed pre-1972 and were published close to the time that the athlete competed. I have been collecting since 1992 and have amassed a collection of nearly 1,300 international cards. Shown here are select cards of athletes that impacted society.
The historical details have been researched and are part of a future book proposal.
Today's sports cards have a long history that can be traced back to the mid-1850s. While not always called sports cards. These cards have gone by different names such as:
Trade cards
Trading cards
Tobacco cards
Gum cards
Baseball cards, and
Sports cards
Trade cards were used to advertise the shopkeeper's trade and were popular in the Victorian era. The trade cards featuring women in sport during this time mostly illustrated women engaging in what we would consider recreational activities today.
There were few organized athletic competitions for women before the 1920s, so it makes sense that the cards illustrated activities such as ice skating, croque, and lawn tennis. And with a few exceptions, most sports were considered unladylike for women to even consider playing. Trade cards became a well-liked collectable but fell out of popularity at the turn of the century when advertisers were able to target their customers more directly and less expensively with other forms of advertising. A few trade cards are included in this collection because their imagery represents the acceptable norms of the time.
As the use of the trade card faded, another form of advertising emerged; the cigarette card, also known as tobacco cards. Adding trading cards to cigarette packages began as a necessity and their inauspicious start was unrelated to marketing needs. Cigarettes were originally sold in soft, wrapped paper. A blank piece of cardboard was inserted to stiffen the pack to protect the cigarettes from being crushed when carried.
American cigarette producers knew that trade cards were popular, so they added pictures to the "stiffeners."
Around 1887, Great Britain started adding their own cards to their packages.
Because of their popularity in cigarettes, trading cards were also added to items such as chewing gum, chocolate bars, margarine, coffee, and shoe polish, to name a few. Tobacco cards nearly disappeared after the second World War but confectionaries, especially chewing gum, continued to use them as inserts.
The peak of tobacco cards was in the 1930s.
Victorian Era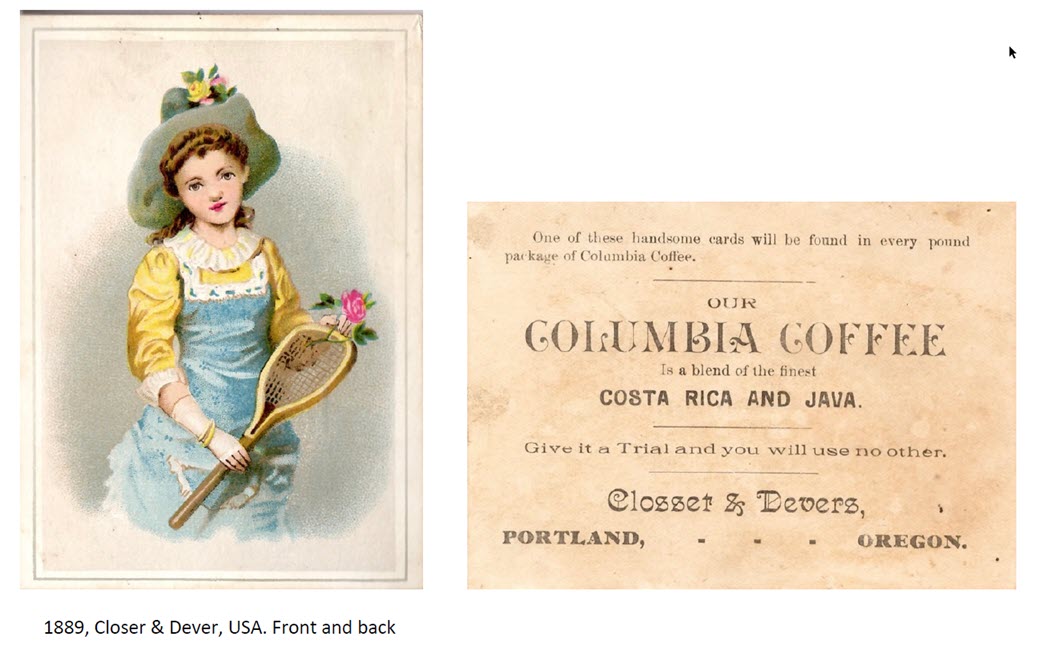 ---
Victorian Era Tennis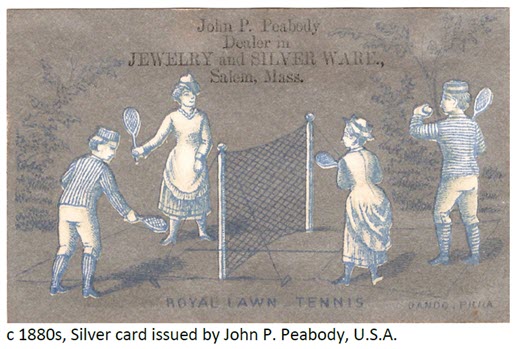 Lawn tennis was one of the few sports that was acceptable for women to play in the Victorian era. The game of tennis has roots that go back to 1417 when Lady Margot of France was considered a top tennis player of her day. The tennis we recognize today started in England in 1873. The first reference of a woman bringing the equipment and the game to the U.S. was Mary Ewing Outerbridge of Staten Island in 1874.
---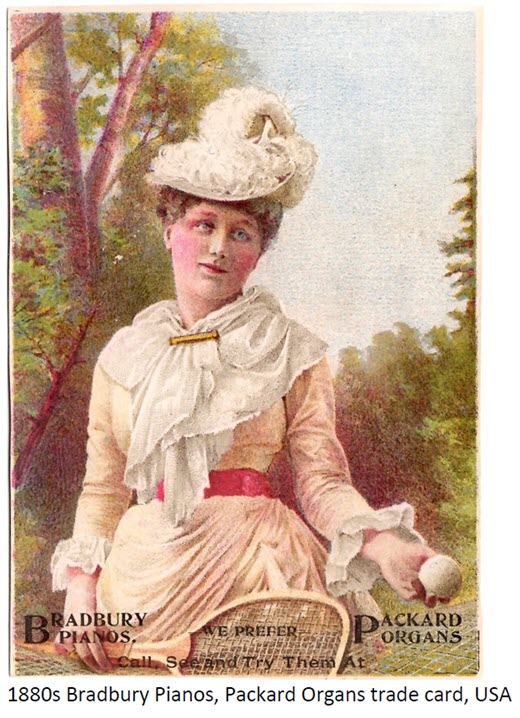 In the U.S. in the 1880s, lawn tennis equipment only came from England, making it a luxury sport for the wealthy with country clubs providing the grass courts. Tennis was a sport where women could play like the men. It was one's class that determined access to the courts, not skill.
Tennis was an acceptable sport for upper-class women; however, it did have its adversaries because tennis was thought to overwork one side of the body. For the upper-middle classes, activities such as tennis, bicycling, and golf were not only done for exercise but sometimes for courting because both men and women could participate.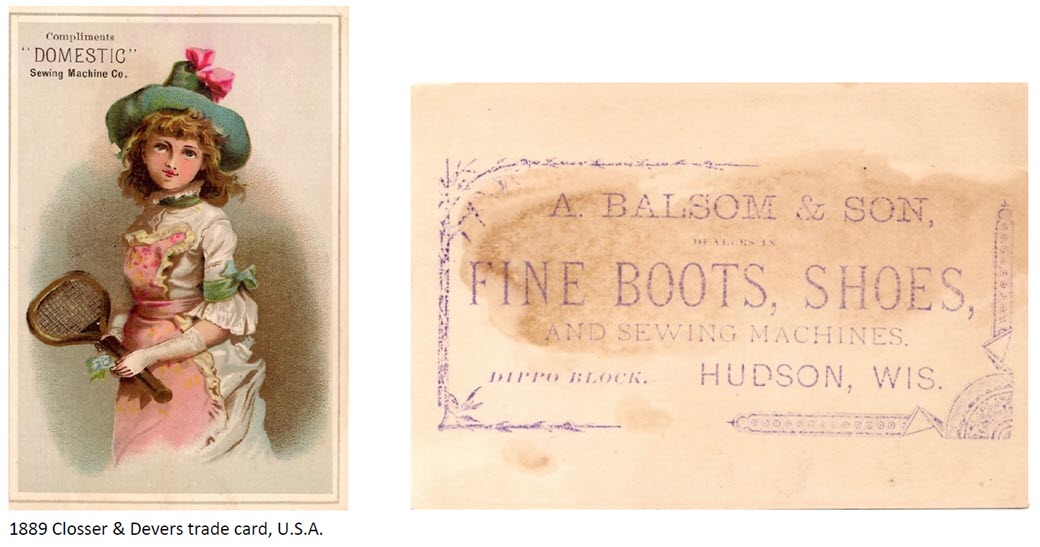 ---
Victorian Era Golf
Victorian Era Boxing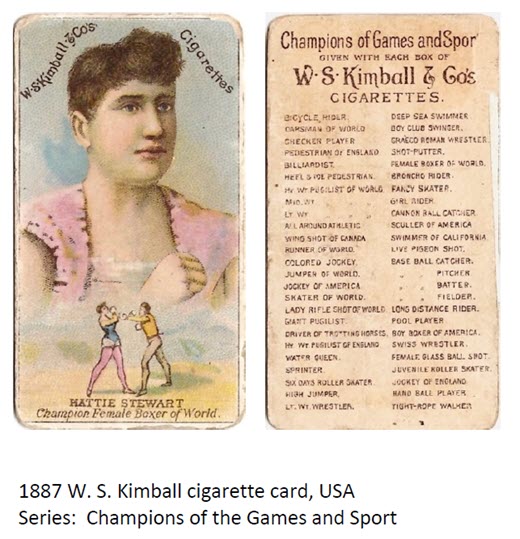 Hattie Stewart, (1857-unkown) U.S.A.
Stewart was considered one of the best female boxers in America in the late 19th century. She was deemed the Female World Boxing Champion in 1884 by defeating Anna Lewis.
This card is significant because of their boxing gloves. It was produced at the time when boxing transitioned from bare fist fighting to the rules we regard today. Ms. Stewart fought both bare fisted and with gloves. Also notable was that female boxers, as with male boxers, at times fought bare breasted. Ms. Stewart was from Norfolk, Virginia and was known to box both men and women. She was an advocate for female independence through exercise and coached women in addition to competing.
---
Victorian Era Exercise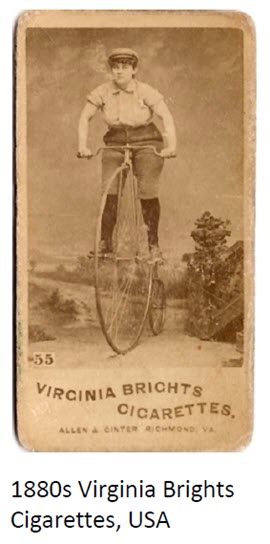 This sepia-tone card shows a woman riding a big wheel bicycle in a time when it was not socially acceptable for women to ride.
A woman's traditional outfit of a long dress or hoop skirts made it physically difficult, if not impossible to ride this form of a bicycle.
The prevalent thinking was that bicycling would harm a woman's reproductive system and some thought bicycling challenged morality, all of which made cycling unacceptable for women…in mostly men's eyes.
This card pictures a woman dressed in a man's clothing, with a short haircut and smoking; all of which, socially, were male characteristics and were unacceptable for women in 1880s America. It could be extrapolated that the card's producer was trying to insinuate that bicycling was an unattractive activity for a woman because it would make you masculine.
When the use of the bicycle chain was incorporated (shortly after this period on the card) the wheels were equalized, and women could then ride in the dress that was socially acceptable. The bicycle also made bloomer pants popular, allowing for greater freedom of movement. Bicycling, therefore, brought freedom to women and expanded the market to manufacturers.
---
Track and Field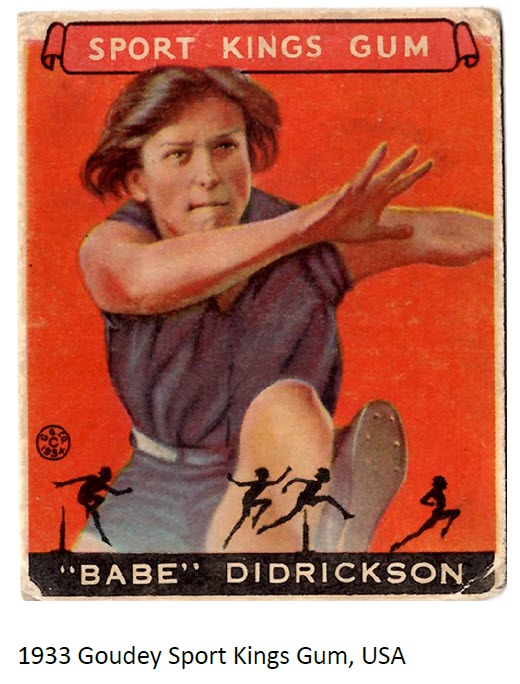 Mildred "Babe" Didrikson Zaharias (1911-1956) U.S.A.
The most prolific female athlete of the 20th century, Didrikson was known for her athletic prowess as much as her brash, folksy, unpredictable personality. As a one-woman team she won the AAU track and field team competition in 1932. She competed in eight of a maximum 10 events and set four world records. The AAU meet qualified her to be on the 1932 Olympic team where she competed in Los Angeles.
Didrikson set three world records and won gold medals in the 50-meter hurdles and the javelin, and a controversial silver medal in high jump (the gold medal was awarded to Jean Shiley pictured with Didrikson below).
After the Olympics, Didrikson focused on the game of golf. As an amateur, she won 13 consecutive tournaments in 1946 and was the first American to win the British Amateur in 1947. She was a cofounder of the Ladies Professional Golf Association (LPGA).
Her talent and flair brought media attention and sponsors. She won 82 golf tournaments between 1933-1953. "The Babe" was voted "Female Athlete of the Year" five times by the Associated Press (1936, 1945, 1947, 1950, 1954) and in 1950 was "Woman Athlete of the Half Century."
Didrikson died in 1954 of colon cancer.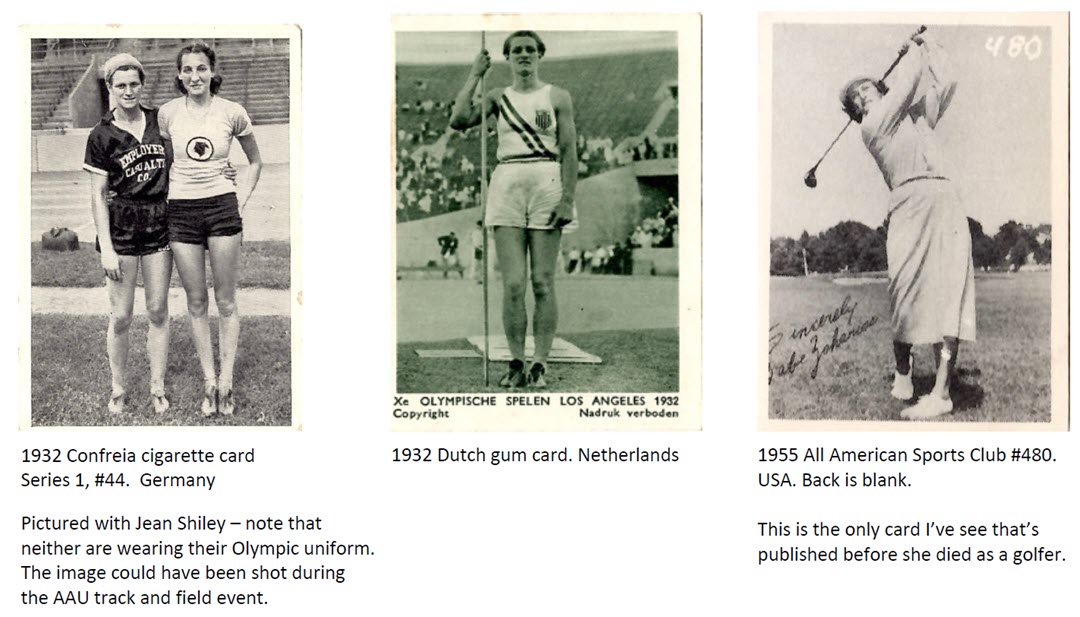 ---
Track and Field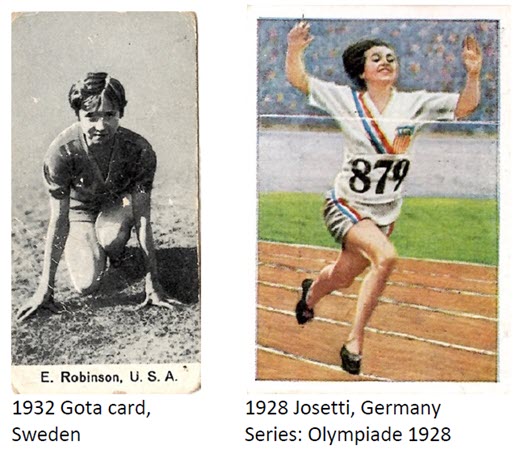 Elizabeth (Betty) Robinson (1911 -1999) U.S.A.
In 1928, Betty Robinson became the first female American awarded an Olympic medal in track and field (this was also the first Olympic games where track and field was offered to women). She was a three-time Olympic medalist by winning Gold in the 100m dash and Silver in the 4 x 100m relay. In 1931 she was in a plane crash where she was so severely injured, she was mistaken for being dead.
Her injuries caused her to miss the 1932 games.
Robinson returned to the 1936 Olympic Games where she won a gold medal as part of the 4 x 100m relay team.
---
Track and Field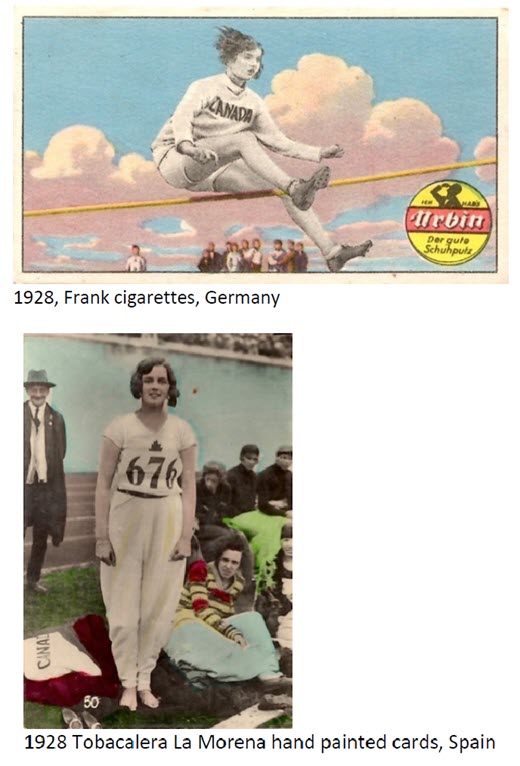 Ethel Catherwood (1908 – 1987) Canada
Catherwood won the gold medal in high jump in the 1928 Olympic Games and set the world record of 1.595m (5' 2 9/16"). Women performed the high jump using the scissor kick and landed in a pit of sand. She was one of six women that represented the Canadian Olympic team in 1928. An injury prevented her from qualifying for the 1932 games.
Catherwood was born in North Dakota, USA but lived most of her life in Saskatoon, Canada. She was inducted into four Canadian Hall of Fame's but did not attend any of the ceremonies. She gave away her medals and viewed her athletic competition as "an unfortunate period in my life."
---
Track and Field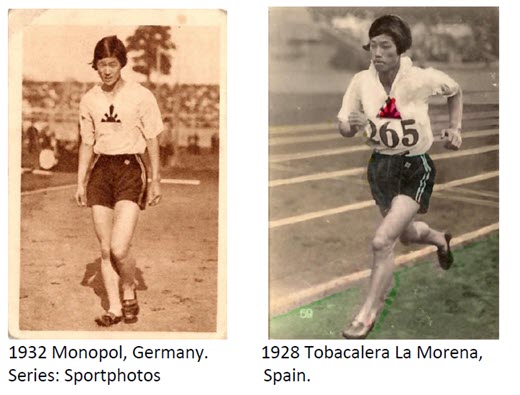 Kinue Hitomi (1907-1931) Japan
Hitomi was the first Japanese woman to win an Olympic medal by coming in second place in the 800-meter run in 1928. The 1928 Games was the first time that women could compete in athletics (track and field).
Hitomi was a sprinter and field specialist so it was unexpected that she would medal in the 800m run. Sadly, she died a few years after her Olympic victory.
---
Track and Field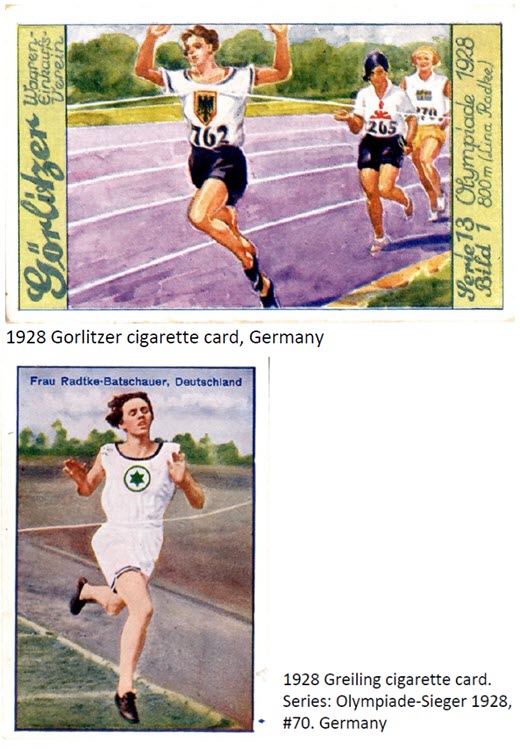 Linda Radke (1903-1983) Germany
Radke won the 800m run in the 1928 Olympic Games. She was the first medalist from Germany, and she set the world record of 2:16.8. Germany was supportive of women's track and field and offered the middle distances when the U.S. was socially challenged with the prospect of women running track at all.
The 1928 800m women's run is historic for its controversy. Some of the runners collapsed at the end of the race and some did not finish. Even though men also collapsed after their race, the media propagated the story that the distance was too strenuous for women.
Due to the inflated press articles, the women's 800m race did not return until the 1960 Olympic Games.
---
Track and Field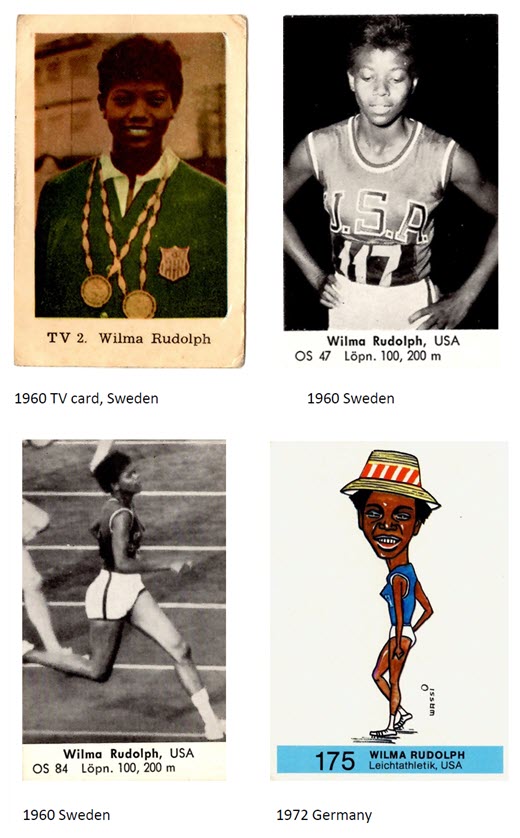 Wilma Rudolph (1940-1994) U.S.A.
Despite being one of 22 children, surviving scarlet fever and double pneumonia (that led to Polio), Rudolph became a three-time gold medalist in the 1960 Olympic Games in the 100m, 400m, and 4 x 100m relay, and earned a bronze medal in the 1956 Games. She was the first American woman to win three gold medals in a single Olympics.
Upon her return to the U.S., she learned the ticker tape parade was to be segregated. She refused to participate until they removed this requirement and it became the first integrated event in Clarksville, Tennessee. She was the first in her family to earn a college education.
Rudoph's cards, along with other women of color are rare. Of the 1,300 cards in the collection, less than 1% are of women of color. This reflects the systematic racism around sports during the time period of the collection.
---
Swimming and Diving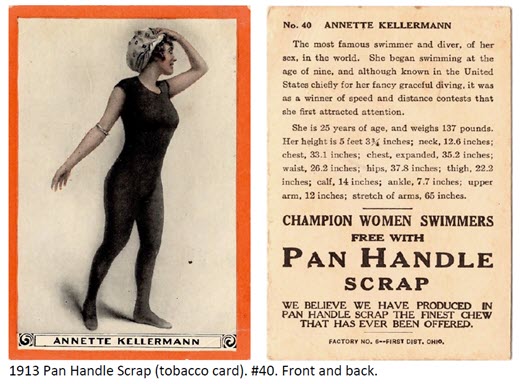 Annette Kellermann, (1886 – 1975) Australia
Australia Kellermann started swimming at age six to strengthen her legs from having rickets. Her most notable accomplishment happened in 1907 when she challenged the socially acceptable, yet totally unsuitable, traditional women's swimsuit.
Instead of the long, woolen outfit, she wore a one-piece. This racy look was so controversial that she was arrested in Massachusetts for indecency because she showed her arms. Kellermann was an accomplished long-distance swimmer, actress, lecturer, and writer.
---
Swimming and Diving
Helene Madison (1913-1970) U.S.A.
As an outstanding athlete, Madison dominated freestyle swimming at the international level. At age 19, Madison won three gold medals in the 1932 Olympic Games in Los Angeles: the 4 x 100m relay, 100m and 400m.
Within her time, she set 20 world records in distances that varied from 100 yards to a mile; the record she broke in the 100m had stood for 23 years before she broke it.
She is inducted into the International Swimming Hall of Fame and the U.S. Olympic Hall of Fame.
---
Swimming and Diving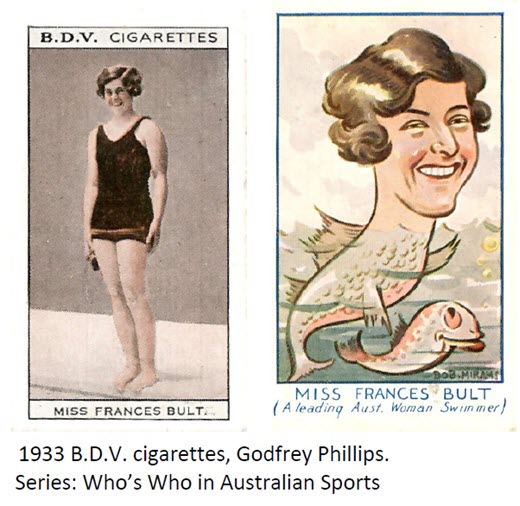 Frances Bult (1913-2008) Australia
Bult competed in the 1932 Olympic Games and finished 5th in the 100m freestyle. These cards were selected because they show her both realistically and as a unique caricature.
1933 Turf Virginia Cigarettes Series: Personality series. U.S.A.
---
Swimming and Diving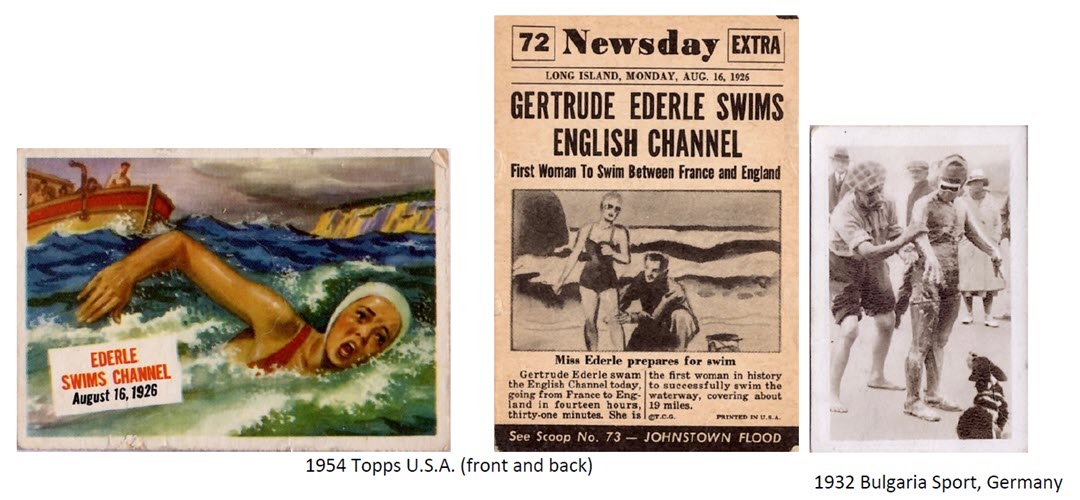 Gertrude Ederle (1905-2003) U.S.A.
Ederle shattered swimming records, along with stereotypes about women in sports. She made her second attempt to cross the English Channel, at age 20, in 1926. Her body was greased in lanolin, lard, oil, and petroleum base and she wore a controversial two-piece swimsuit instead of the more traditional, heavy wool one-piece.
The swim took place in challenging weather conditions with winds causing the 63-degree water to crest into high waves. The strong current pulled her off course by 14 miles, yet she beat the previous record by over two hours.
After her successful swim, she was welcomed by a ticker tape parade, the first ever for a woman, where two million people crowded the streets of New York City to get a glimpse of this superhuman woman. Olympian Aileen Riggin describes her accomplishment as a feat matched only by Lindberg's flight.
While many other swimmers made the journey successfully, her record remained unbroken until 1951. Ederle also was a three-time medalist in the 1924 Olympic Games. She earned a gold medal with the women's 4 x 100 freestyle relay team and two bronze medals in the 100m and 400m freestyle.
After swimming the Channel, Ederle earned a living by swimming in movies and in the 1939 World Fair Aquacade show but she never desired the limelight. Ederle preferred simply being in the water and swimming.
---
Swimming and Diving
Ingrid Krämer
(1943- )
East Germany
Kramer was the gold medalist in the 1960 Olympic Games for the springboard and platform dives. She defended her title in the 1964 Olympic Games in the springboard.
---
Swimming and Diving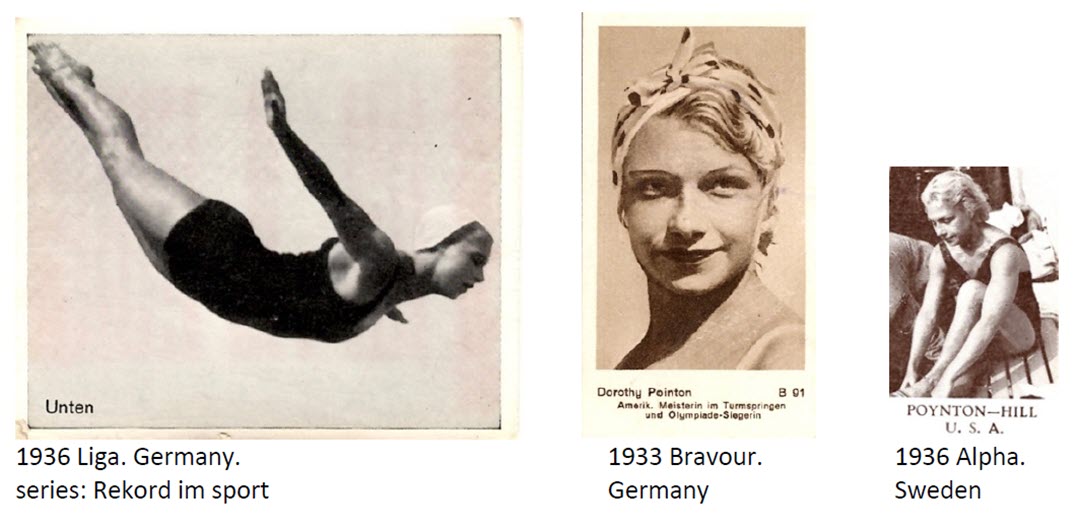 Dorothy Poynton (1915-1995) U.S.A.
Poynton was a three-time Olympic diver that won silver in springboard (1928), gold in platform diving (1932) and repeated the gold medal in platform and won bronze in springboard in 1936. She was only 12 years old when she competed in the 1928 Olympic Games.
She was the first American diver to win Olympic medals three years in a row.
---
Swimming and Diving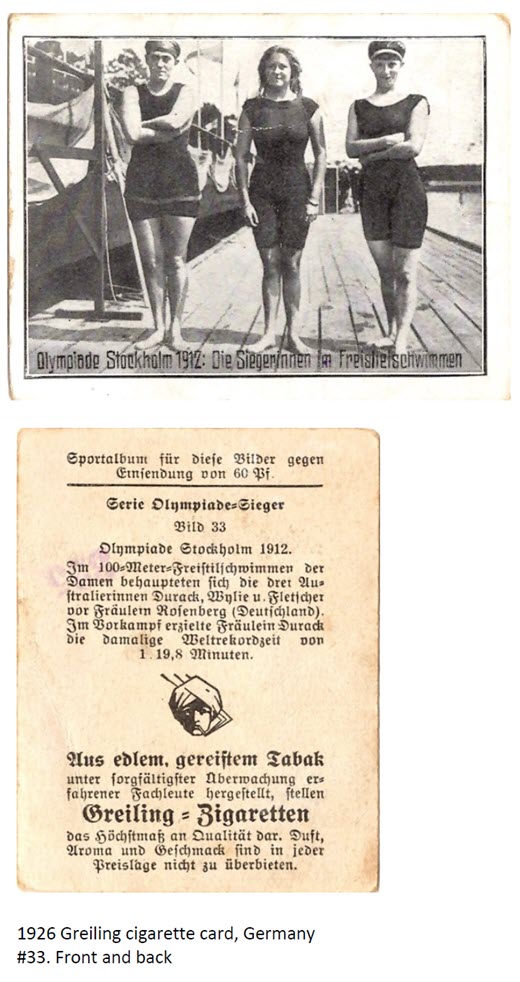 1912 Olympic Games 100m Swimming Champions

Gold – Fanny Durack (Australia), left
Silver – Mina Wylie (Australia), center
Bronze – Jennie Fletcher (Great Britain), right
The 1912 Olympic Games was the first-time swimming was open to women. The swimming competition took place outdoors in a Swedish harbor without lane lines. Swimsuit fabric was nearly sheer when wet, hence the cross-armed stance. The Australian women could participate, but only if they paid for their expenses, including travel. The American powers that controlled women's swimming refused to send a team because they did not want women to be dressed inappropriately.
Durack (1889-1956) set world records in the 100m freestyle from 1912-1920 and the 200m freestyle from 1915-1921, amongst other strokes and distances.
Wylie (1891-1984) competed from 1906-1934 and won 115 titles during her career.
Fletcher (1890-1968) held the 100m freestyle record for seven years (1905-1911). She lost the record to Durack in 1912. She set and broke her own world record 11 times.
---
Golf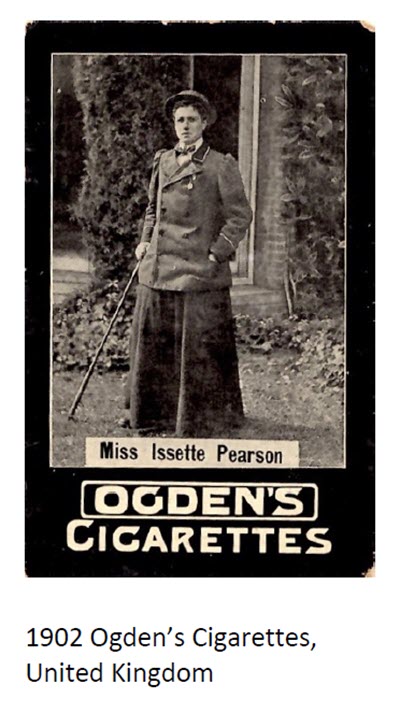 Issette Pearson (1861-1941) England
A longtime leader in the development of women's golf, Pearson started a competition in 1910 that still awards the Pearson Trophy today. Pearson formed the Ladies Golf Union in 1893. In 1900, she formed the Surrey Ladies' Country Golf Club.
While she was the only woman in her day that was a "scratch" player (scratch players are considered the best players and do not play with a handicap) she wanted to add handicaps to her tournament so that more women could play. She is also credited with developing an early uniform course rating and handicap system that could be played from course to course.
---
Golf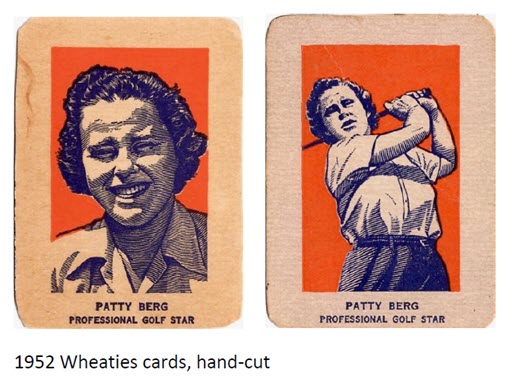 Patty Berg (1918-2006) U.S.A.
Berg was one of the 13 founders of the Ladies Professional Golf Association (LPGA). She started playing golf at age 13 and quickly rose to prominence. She won 22 tournaments as an amateur and 38 as a professional.
Berg turned pro in 1940 and worked to establish the LPGA in 1948. She remains the record holder of most major wins by a female golfer (60 tournament wins and 15 majors' titles). She was the Associated Press Woman Athlete of the Year in 1938, 1942 and 1955.
Only two other LPGA golfers were featured on the Wheaties cereal box from this vintage: sisters Alice and Marlene Bouer. These cards were the actual cereal box and were hand-cut.
---
Golf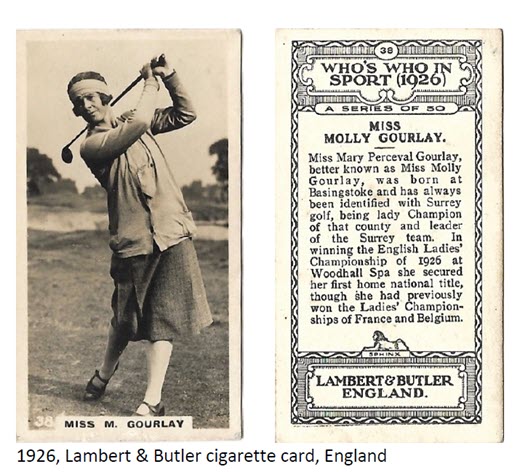 Molly Gourlay, (1898-1990) England
Gourlay won the French Open in 1923, 1928 and 1929, the Swedish Ladies Amateur, Belgian Open, and English Ladies Amateur. She was captain of the British Curtis Cup team three times.
Gourlay was not only a great golfer, she was the first female golf course architect in Great Britain.
---
Golf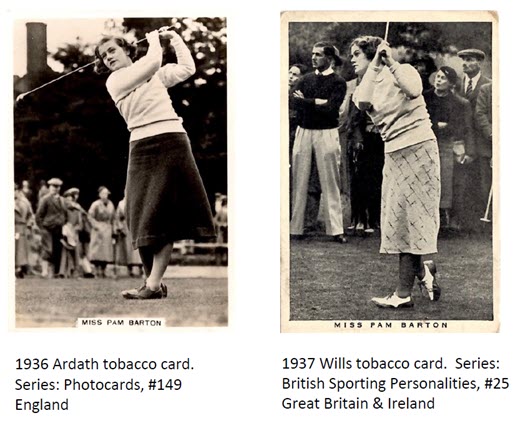 Pam Barton (1917-1943) England
Barton and her sister were coached aggressively when they were teenagers. Barton was known for being a sturdy player and hard hitter. Within her career, she won the French International Ladies Golf Championship in 1934, the British Open twice and the Women's Amateur in 1936 and 1939. She was the first female golfer to hold the American and English title in the same year. She competed in the Curtis Cup in 1934 and 1936.
Tobacco cards often reference that she has traveled internationally to compete, something that was not as common for women at that time as it is today.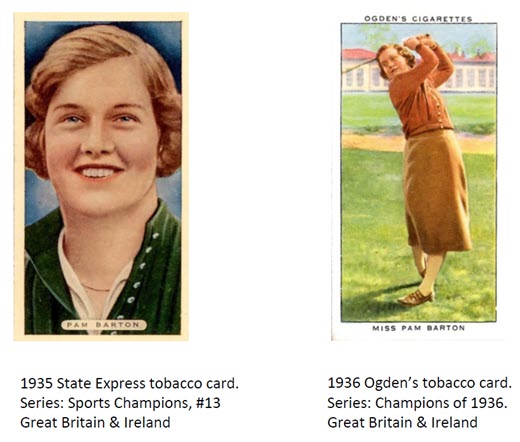 Barton joined the Women's Auxiliary Air Force (WAAF) in 1941 and served first as an ambulance driver and later as a flight officer where she commanded a staff of 600. She was killed in a military aviation accident at 26 years old.
As a golfer, this champion won over crowds, young and old, with her skill and her personality.
---
Tennis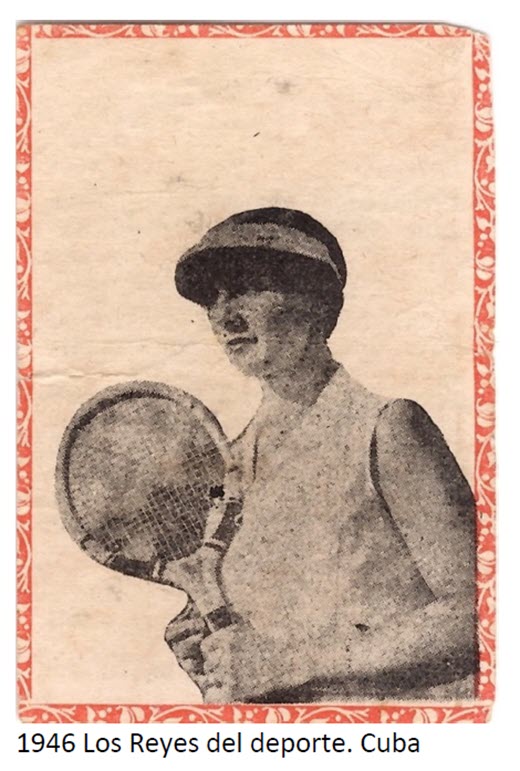 Helen Wills (1905-1998) U.S.A.
Wills was an American tennis player that achieved international fame as she dominated women's tennis for 16 years. In the days of amateur sports, this was quite the feat for female players considering they did not play for money or have sponsors. Wills was the champion multiple times at the French Open, Wimbledon, the U.S. Open and the Wightman Cup.
She won 19 of 24 Grand Slams that she entered between 1922-1938. She was also the Olympic gold medalist in 1924. Despite her success, she was known as quiet, shy, and socially awkward.
More concerned about playing the game than paying attention to her fans, the media nicknamed her "Little Miss Poker Face." Wills and France's Suzanne Lenglen were considered rivals of their day and the top players in the world.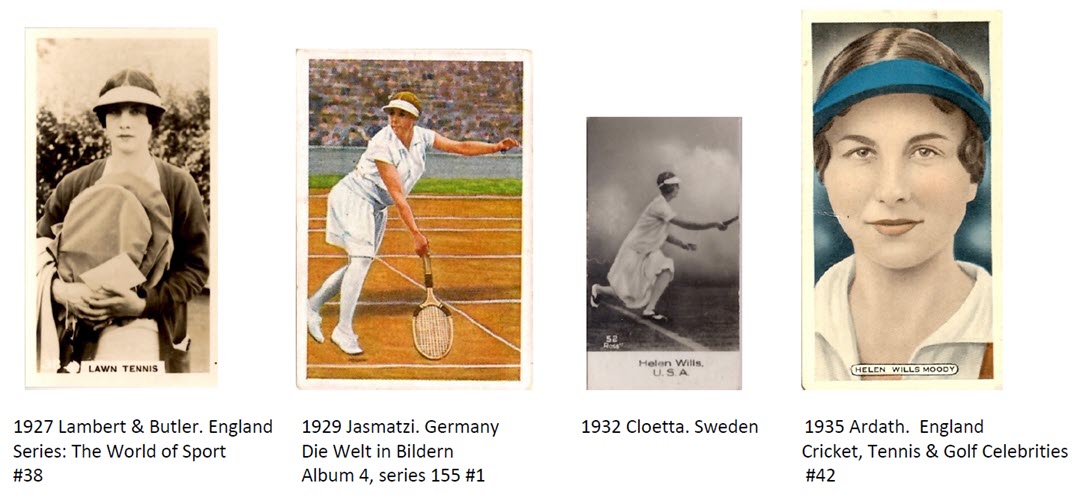 ---
Tennis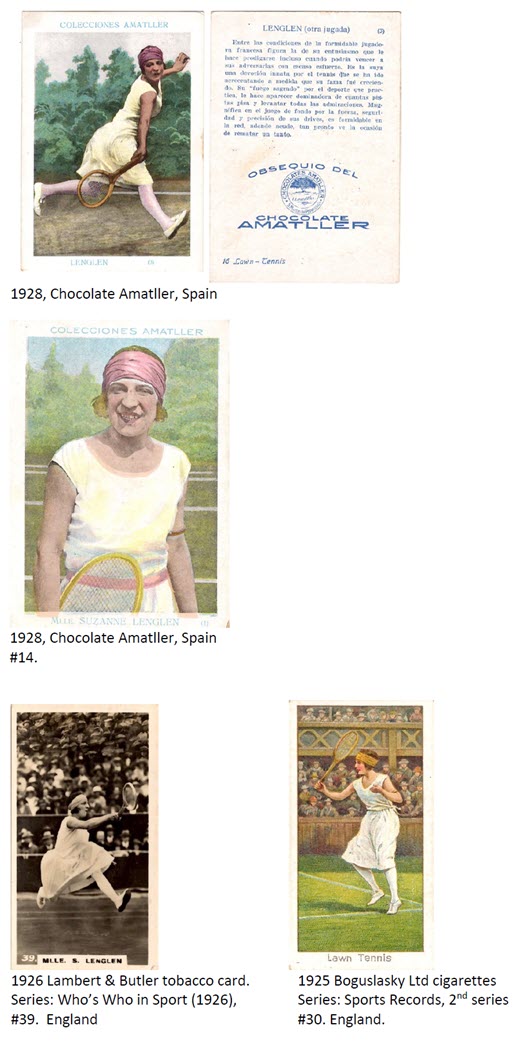 Suzanne Lenglen (1899-1938) France
Lenglen popularized the game of tennis and was even nicknamed "the Goddess" of women's tennis throughout the 1920s and early 1930s. She won Wimbledon five times in a span of six years (1919-1923 and again in 1925) and the French Open in 1920 and 1926.
In all, Lenglen won 34 major championships (250 overall) plus the gold medal in the 1920 Olympic Games. Known for her gracefulness on the court, she effortlessly disbanded her opponents. She was known to sip liquor throughout matches to ease her nerves. Winning fueled her popularity and made her the first superstar of women's tennis. Fans came out by the thousands, often creating the need to expand stadium seats such as Wimbledon.
Lenglen can also be credited for changing the way the tennis tournament format progressed at Wimbledon. Before Lenglen, the former champion would enter the match in the Challenge Round, giving her the advantage of being physically fresh but disadvantaged by being cold. Lenglen felt this was unfair. She insisted on starting the tournament at the beginning round and the rules forever changed after 1922.
She turned professional after 1926 but could not find enough women of her caliber willing to give up their amateur status.
Lenglen died young at the age of 39 due to leukemia.
---
Winter Sports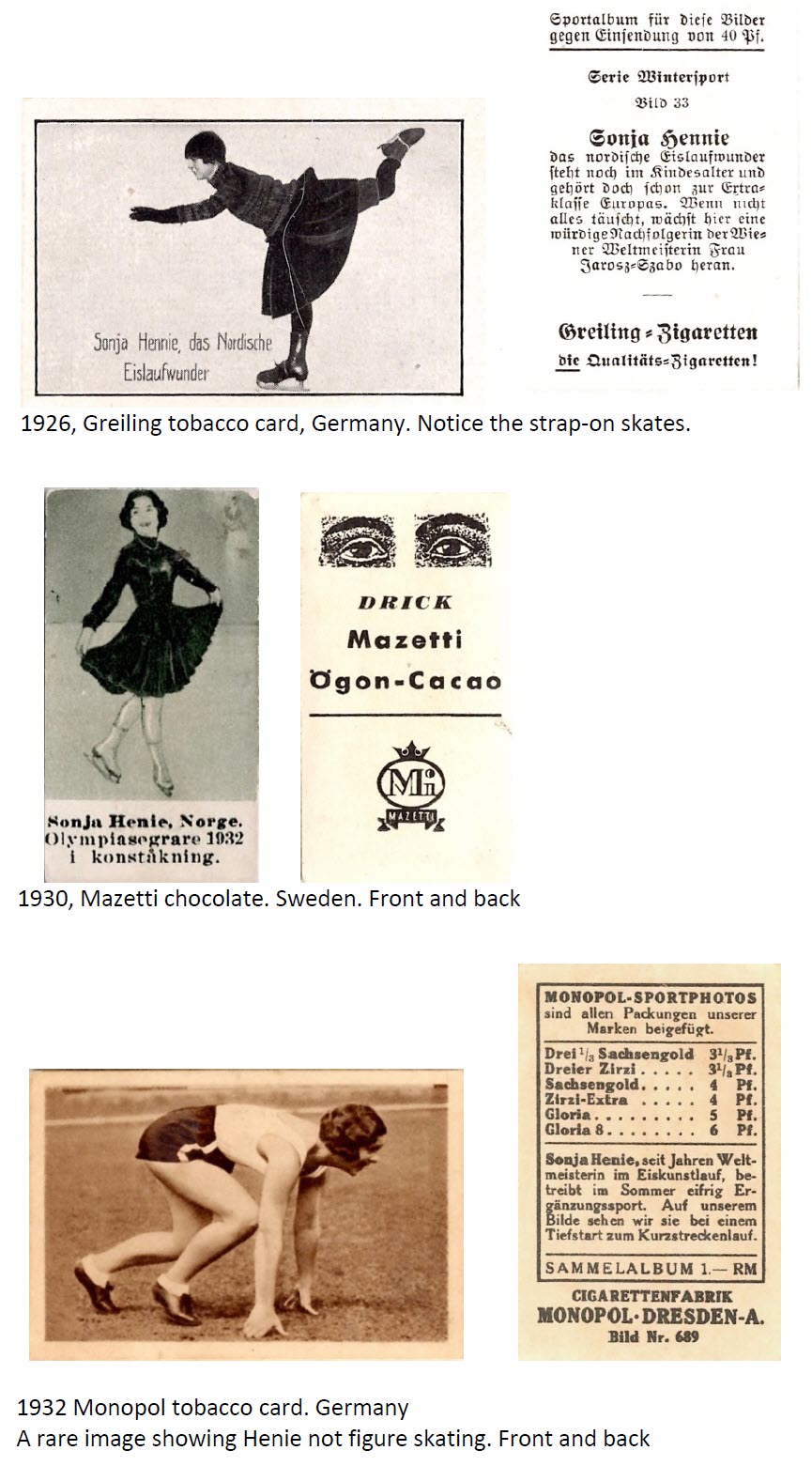 Sonja Henie (1912-1969) Norway
Beginning her competitive years at the age of 10, Henie went on to become a three-time Olympic gold medalist, winning the 1928, 1932 and 1936 games. Her record of winning three golds was only matched 42 years later by Germany's Katerina Witt in 1984 and 1988.
Henie had many impacts on the sport of figure skating. She popularized white figure skates for girls, incorporated choreographed dance moves as part of a skater's routine, made ice skating popular for girls, and she popularized the Zamboni ice-leveling machine.
After her athletic career, she moved to Hollywood and became one of the highest-paid actresses of her time. She was so wealthy that she owned her own Zamboni machine and took it by train from town-to-town to her ice shows. Her championship ice skating accomplishments and movie star fame positioned her perfectly to create ice dancing shows as a form of entertainment. Between movies, ice shows, merchandise, and endorsements, she was considered one of the wealthiest women in the world.
She died at the age of 57 due to leukemia.
---
Winter Sports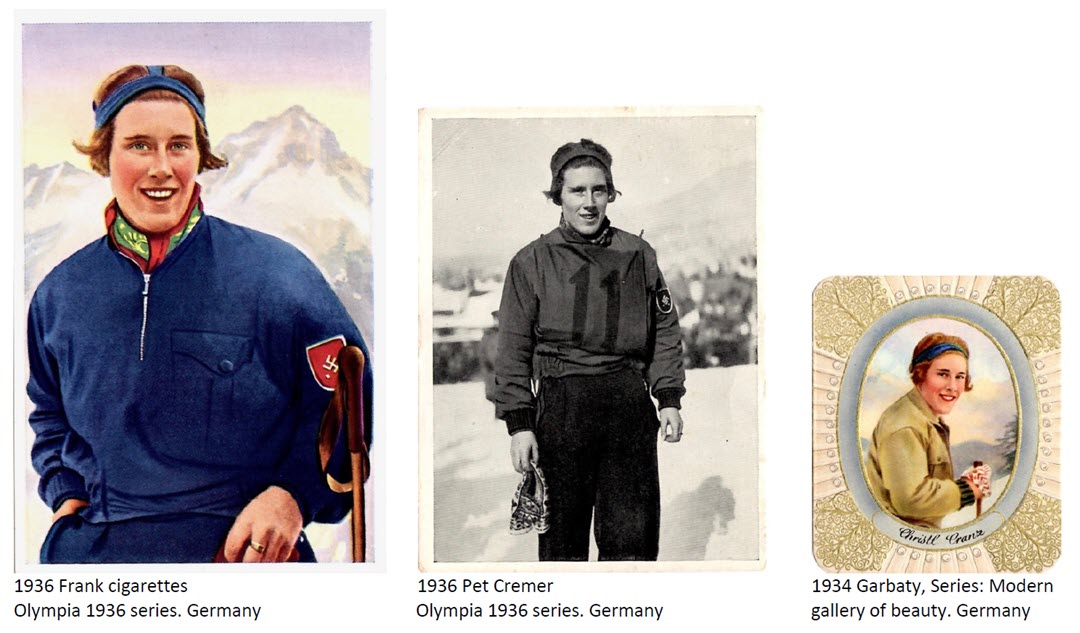 Chriti Cranz (1914-2004) Germany
Cranz was a world champion alpine skier between 1934-1939, winning 12 world titles and two gold medals in the 1936 winter Olympic Games.
After World War II she was arrested for collaborating with the Nazis and was sentenced to work at a labor camp for ~10 months. Her involvement with the Nazi regime was inconclusive.
After she was released, she became Germany's first certified female ski instructor, ran a ski school for 40 years, coached the German national team for the 1956 and 1960 Olympic Games, and wrote several books about skiing.
---
Winter Sports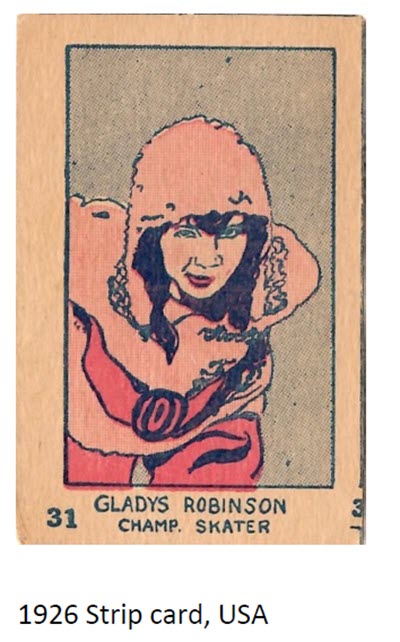 Gladys Robinson (1902-1934) Canada
Robinson became the Canadian women's speed skating champion at the age of 14. While commonplace today, she did something unorthodox for women in her day; she trained with a coach. Robinson hired Fred Robson, the holder of nine world records in speed skating, as her trainer. After a rigorous training schedule, she set several world records and retired undefeated.
Speed skating did not become an Olympic sport for women until 1960.
Robinson died of a lengthy illness at the age of 34.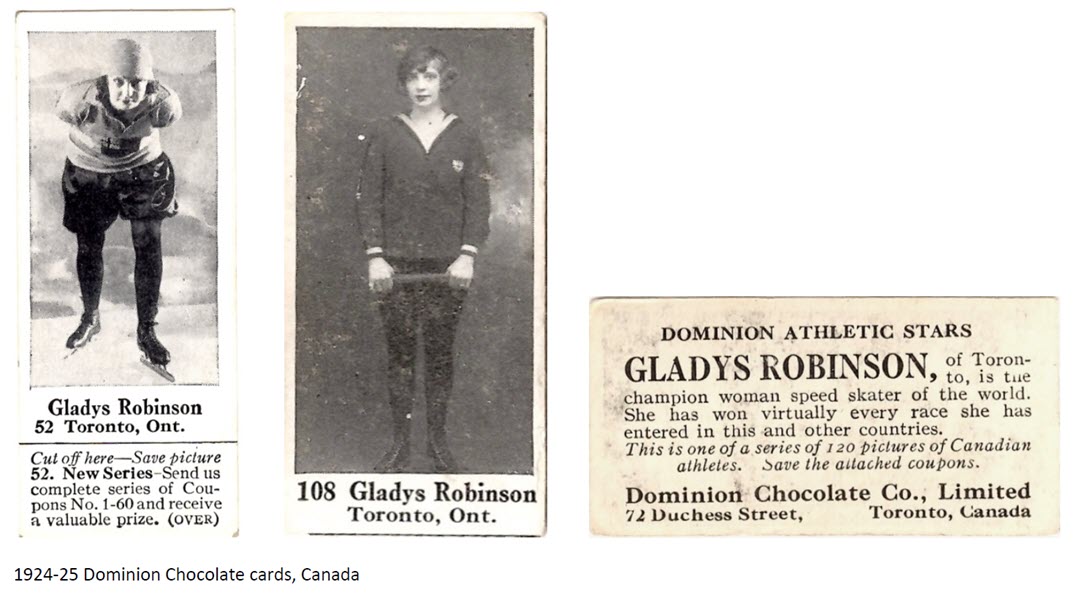 ---
Fencing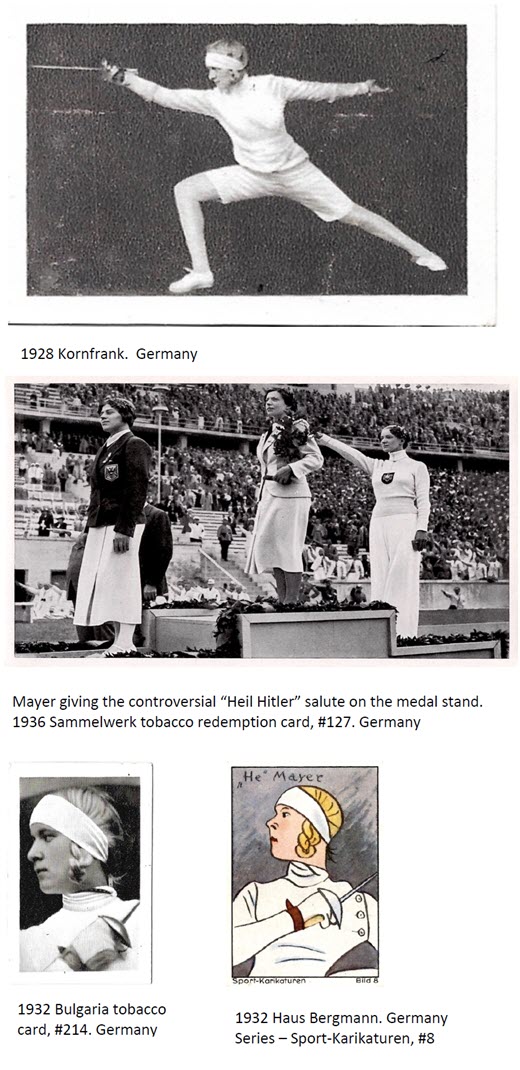 Helen Mayer (1910-1953) Germany
Mayer was one of the finest fencers in the world in the 1920s and 1930s. Sports Illustrated even named Helene Mayer the greatest fencer of the 20th century in 2000. Mayer won gold in the 1928 Olympic Games, finished 5th in the 1932 Olympics (hours after learning of the death of her boyfriend), and returned to the 1936 Games to win silver. But her life was more complicated than medals won.
After the 1932 Olympic Games in Los Angeles she remained in the U.S. to attend college. Having a father that was Jewish, her German fencing club discontinued her membership. She remained in the U.S. and taught German. All the while, her home country was rapidly changing as Hitler rose to power. Her father had died.
She could not compete for the U.S., and Germany was looking for a way to stop the U.S. from boycotting the 1936 Olympics and appease the I. O. C's demand that Germany allow Jewish athletes to compete. Their answer: Helene Mayer. Most historians believe she was aware of Hitler's atrocities so what was her reason for participating? She simply wanted to compete and have the chance to return to her former glory and fame. Neither happened.
Mayer returned to the U.S., became a citizen in 1940, and died at the young age of 42 from cancer.
---
Field Hockey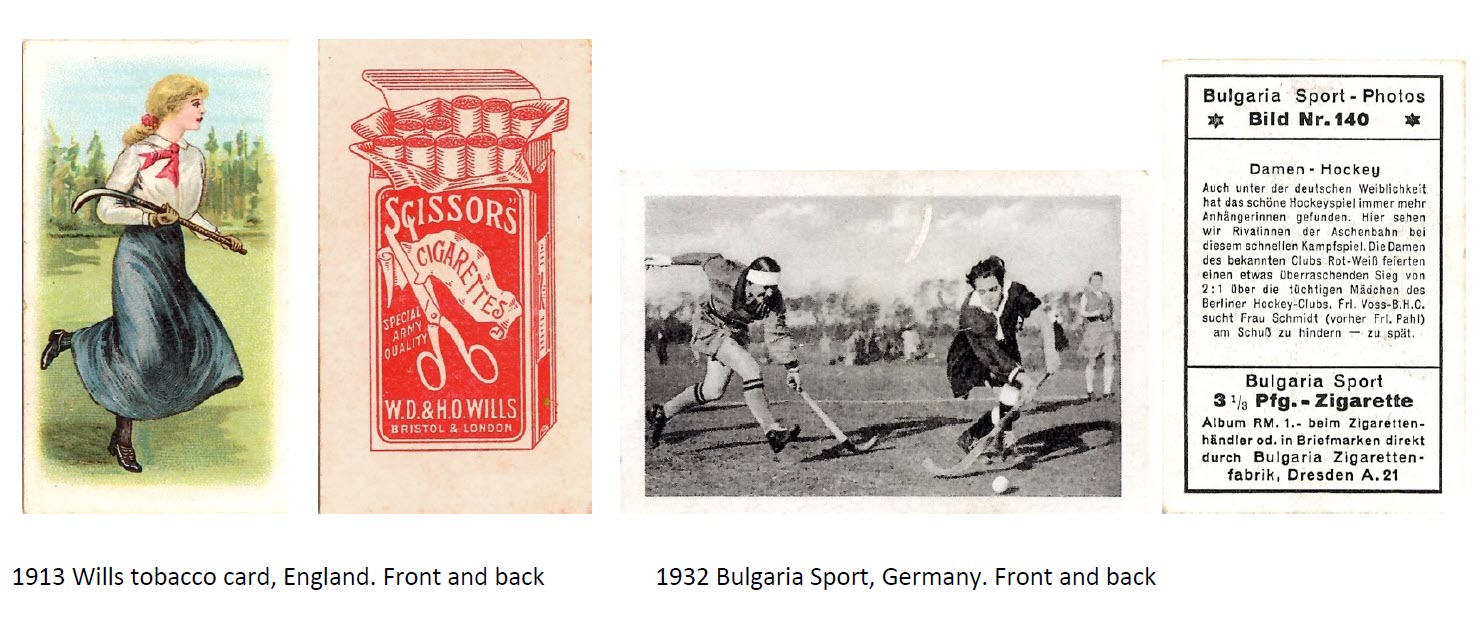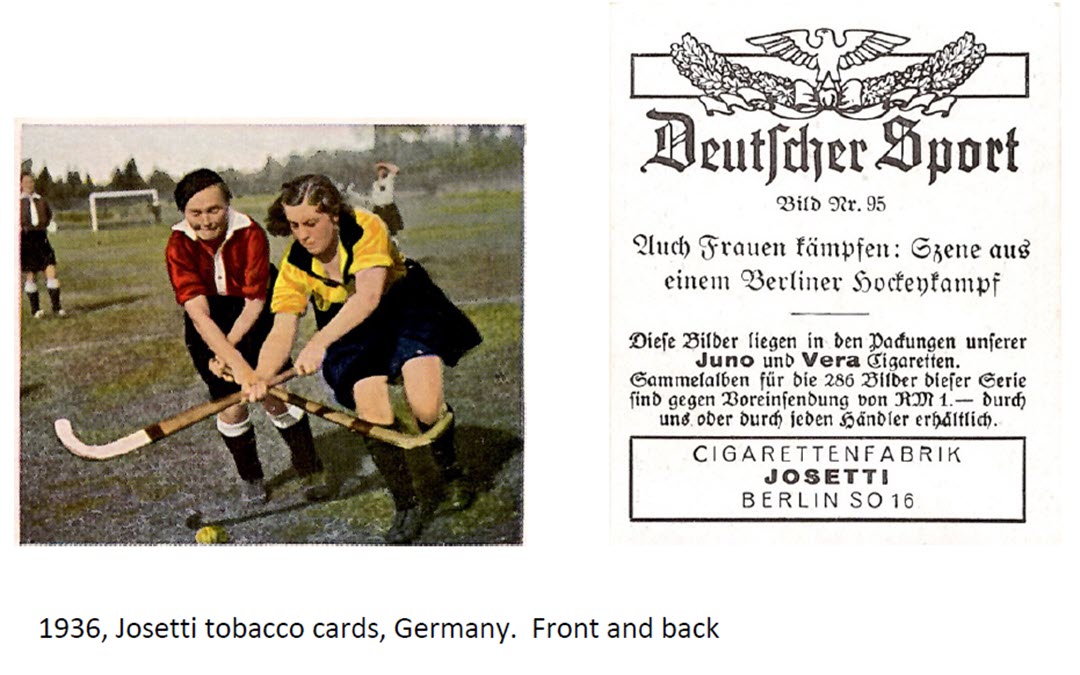 Field hockey was a popular sport in the late 19th century in England. It was brought to the U.S. in 1901 and initially played in women's colleges on the east coast.
Field hockey became an Olympic sport in 1980 for women (1908 for men). German women have a long history of dominating the sport.