Mt Washington Cog Railway
By Richard Sheaff
I recently came across a sketch I had made back in 1989 for a U.S. postage stamp which I had designed, issued in 1995. What caught my eye was a notation I'd put on it saying that it was the first time I had used my spanking new first computer in the process, a Macintosh II. From the perspective of 2014, the capabilities of that machine are totally laughable, but at the time it was considered the cat's meow. Below is my 10-second quickie sketch (I cannot just now remember how I got the sketch into that rudimentary Macintosh system; perhaps I sketched it using McDraw, the rudimentary drawing program that came with the Mac), combined with some crisp type from a Boston typesetting firm. (Remember typesetters? Typesetting was a large industry, employing craftsmen whose specialized professional occupation disappeared very soon after the introduction of personal computers. Even highly successful typesetting businesses went out of business all across the nation, folding their tents with shocking speed. But I digress.)
The rough layout guidance was given to Boston artist Bob Brangwynne, who created the black-and-white line artwork (below), which in turn provided line-by-line guidance to the steel engravers at the Bureau of Engraving and Printing.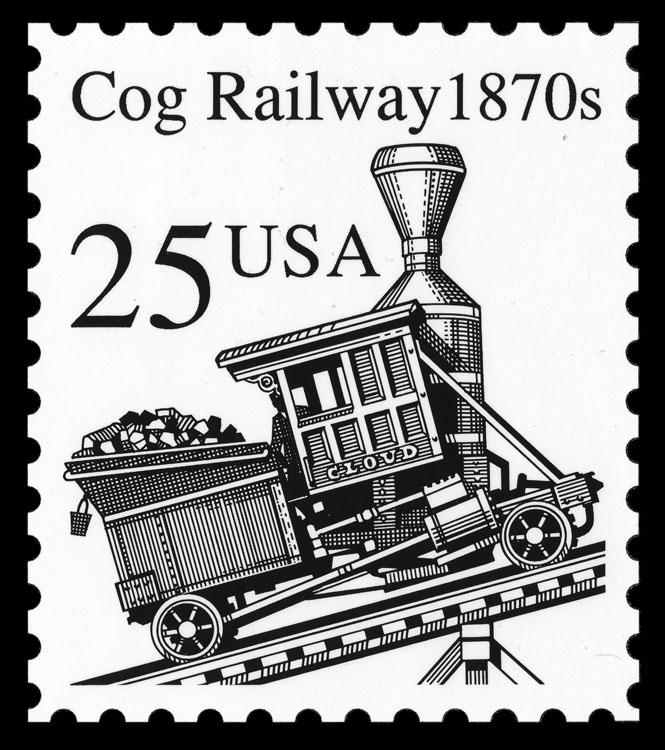 The issued stamp: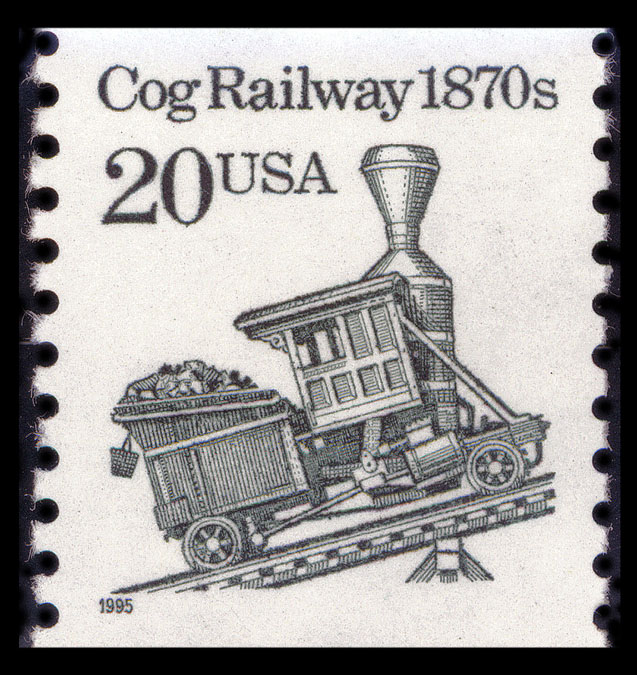 New Hampshire's Mt. Washington cog railway was the first mountain-ascending rack-and-pinion railway. Derisively dubbed "The Railway To The Moon" by those who thought the concept insane, it was the brainchild of Sylvester Marsh of Campton, NH, who was granted a charter in 1858. At 6,288 feet, Mt. Washington is the highest mountain in the Northeast. Because of the Civil War, the railway could not be designed, constructed and opened for business until August 14, 1868. The first locomotive was named "Old Peppersass".
Franklin, NH inventor and photographer (among other things) Walter Aiken was instrumental in designing the unique, vertical boiler locomotives. He built the original prototype model used to demonstrate feasibility to investors and legislators. He manufactured four of the engines used by the railway over time, acted as manager, and eventually came to have controlling interest in the company. As evidenced by the two trade/business cards below, Joseph W. Dodge served as manager at one point in time.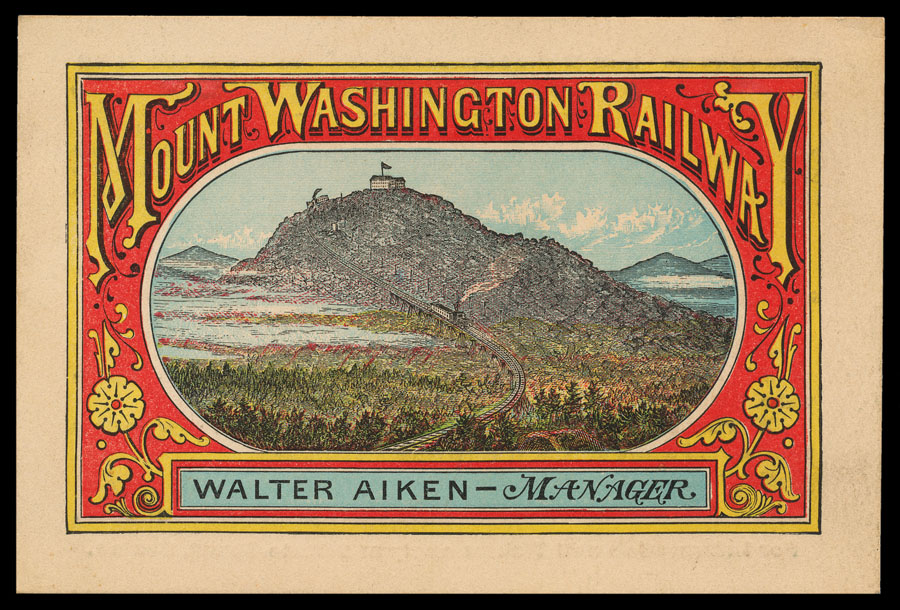 Colorful stationery—along with many other items for the tourist trade—was sold in the gift shop at the Summit House; most or all of the letterhead came adorned with a piece of attached local alpine flora . . .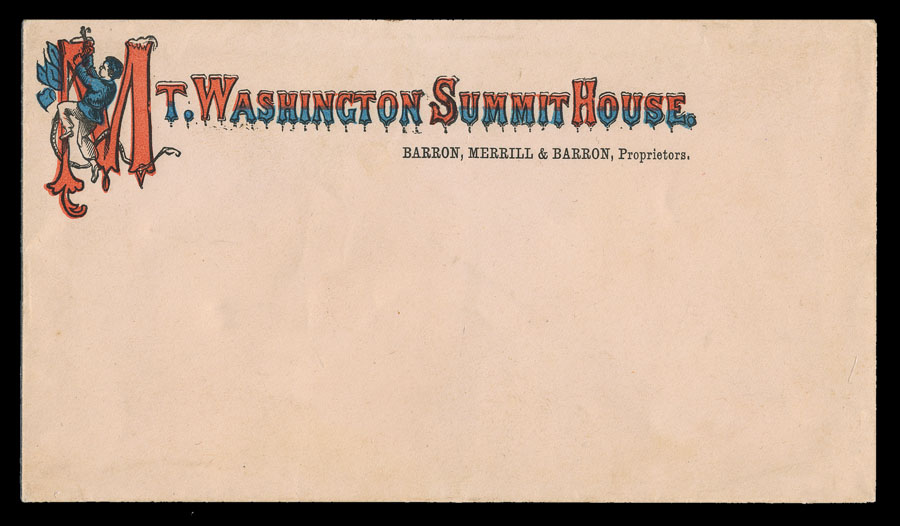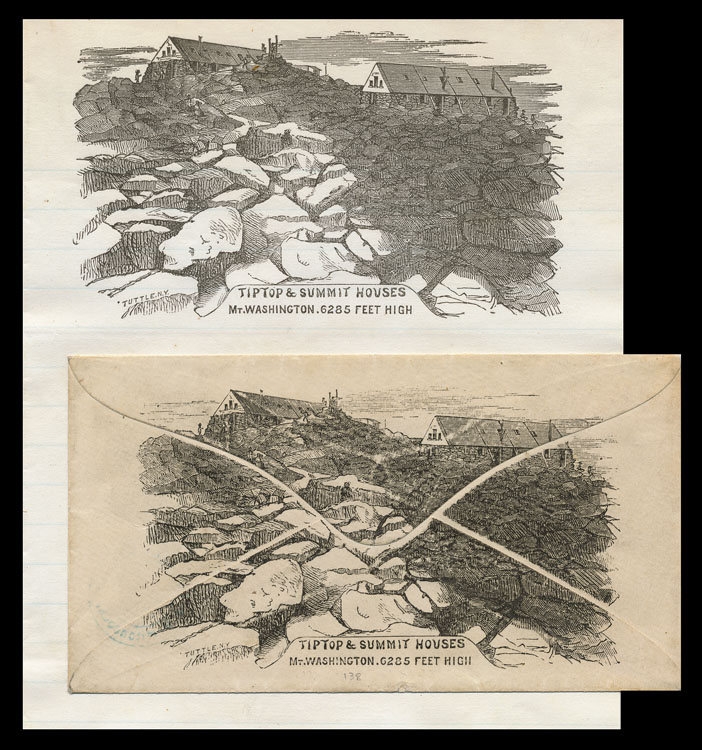 The 1883 card below has on its reverse the full schedule of runs, upward and downward, between the Fabyan and Mt. Pleasant House resorts, the base station and the summit.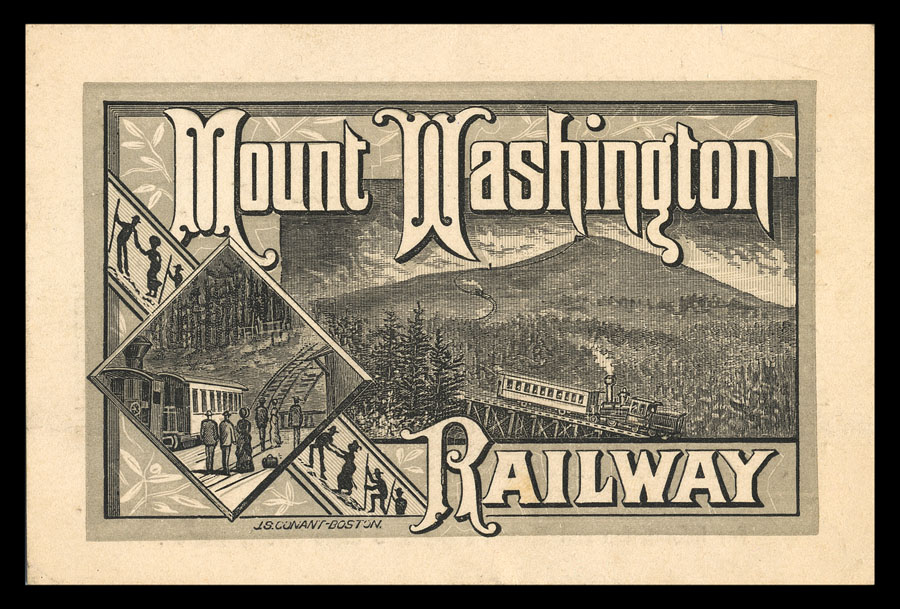 Part of a souvenir ashtray . . .
The Engine "Tip Top". . .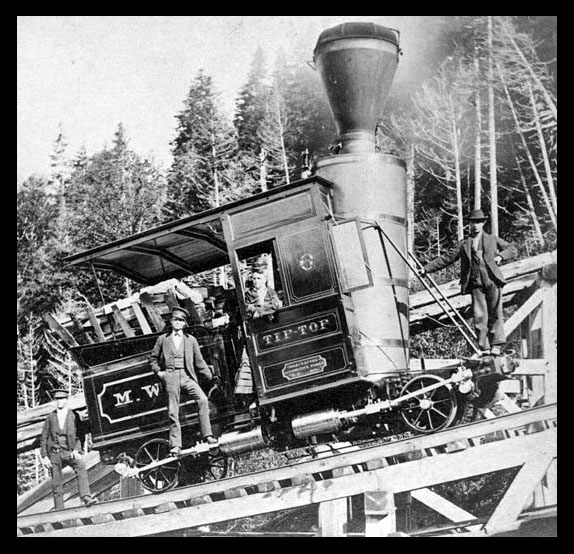 The first engine "OId Peppersass". . .
The Kilburn Brothers stereography business in Littleton, NH was one of the very largest in the nation. They documented in stereo photography every aspect of the cog railway, including all the stages of construction. Kilburn stereo views were sold as souvenirs at the Summit House. When Kilburn stereo views began to be converted to wood engravings for Harper's Weekly, the Mt. Washington Cog Railway gained national prominence.
The Kilburn stereo pair below was titled Sliding Down Mt. Washington Railway.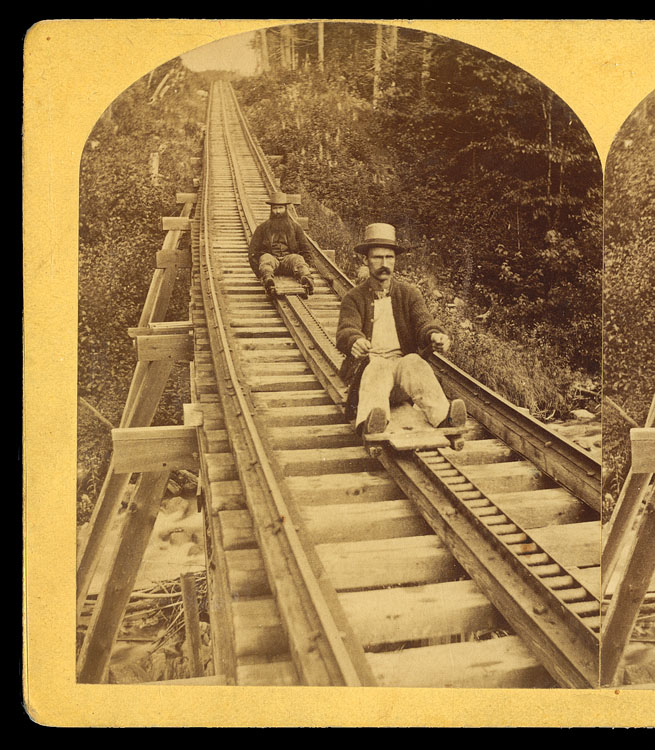 Kilburn cropped this image at an exaggerated angle . . .
As I write this, somebody is offering on eBay an actual short section of the railway's cogs . . .

Lizzie Bourne was a young woman who, in 1885, died of exposure while walking up the mountain dressed in inappropriate Victorian ladies' wear. A memorial monument in the form of a stone cairn was erected alongside the cog railway line.
The view below is from a heliotype photograph published in 1879 . . .
Mt. Washington Cog Railway is alive and well today.
Finally, a modern oversized fundraising postcard . . .