January 1, a good day to hop on the wagon!
By Richard Sheaff
Horse-drawn commercial delivery wagons are an interesting subject and a rich topical collecting area. Vintage delivery wagons (as well as many other types of wagons, carriages, carts, horsecars, coaches, and drays) can be collected as trade cards, advertising covers, industry periodicals, trade catalogs, postcards, chromolithographic prints and/or photographs.
Work vehicles were first produced in the Massachusetts Bay Colony in 1629. In 1676, there were twenty licensed "car men" in New York City. There are many historical trails one might follow . . . developing and evolving styles, suspensions, sizes, industries, specialized configurations.
Trade cards featuring just the delivery wagon shown large, and in color, are not common.
Conestoga wagons, familiar from wagon trails immigrating West, were originally developed as commercial wagons to haul freight in Pennsylvania.
There exist a wealth of photographic imagery documenting 19rth century and early 20th-century commercial delivery wagons (this photograph is in the collection of the Library of Congress) . . .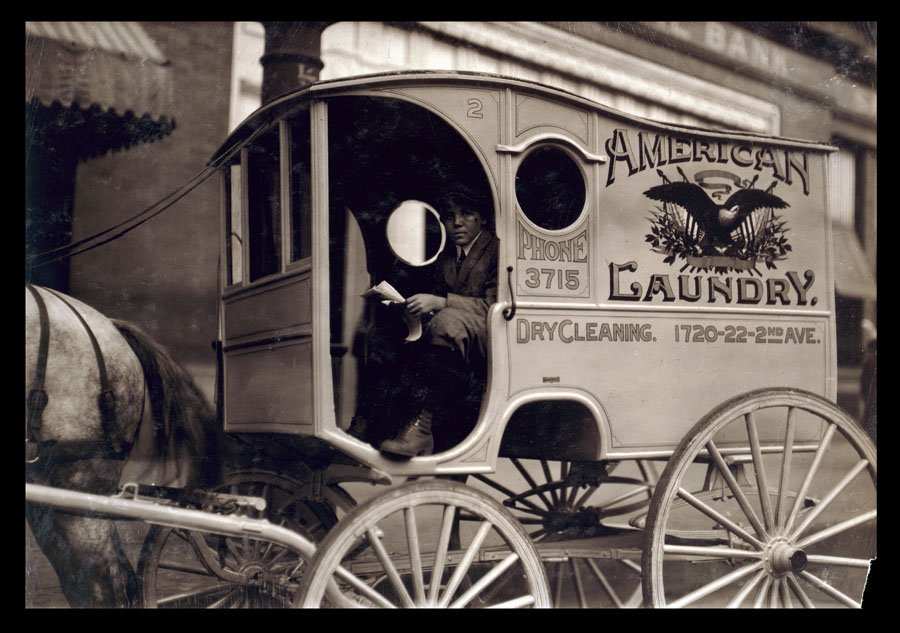 Excellent renderings are to found in trade catalogs and industry periodicals (the first such in the United States was likely Coach-Maker's Guide, Columbus, Ohio, 1853). Here is a particularly elegant vehicle from 1884 (The Carriage Monthly, Vol. 20, June 1884) . . .
This interesting globe novelty wagon (below) was created for the firm of McCabe, Young & Company of St. Louis in 1890; they had several of them about town. Soapine collectors will recognize this as very similar to one depicted on a Soapine trade card. I do not know if such a Soapine wagon actually existed or was only a promotional image inspired by real examples such as the Globe Shoe and Clothing Company . . .
A photographer's advertising "backmark" (or backstamp or imprint) on the reverse of a carte de visite photograph mount . . .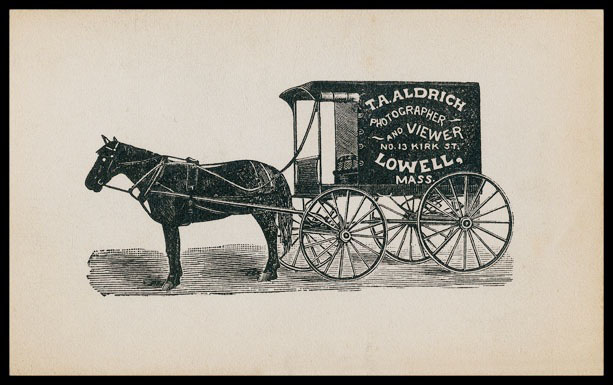 William E. Clarke, the proprietor of the Hunt's Remedy patent medicine, is standing in the doorway of his Providence storefront in this stereo view, with one of his wagons posed in front. Notice the dog sitting in the wagon . . .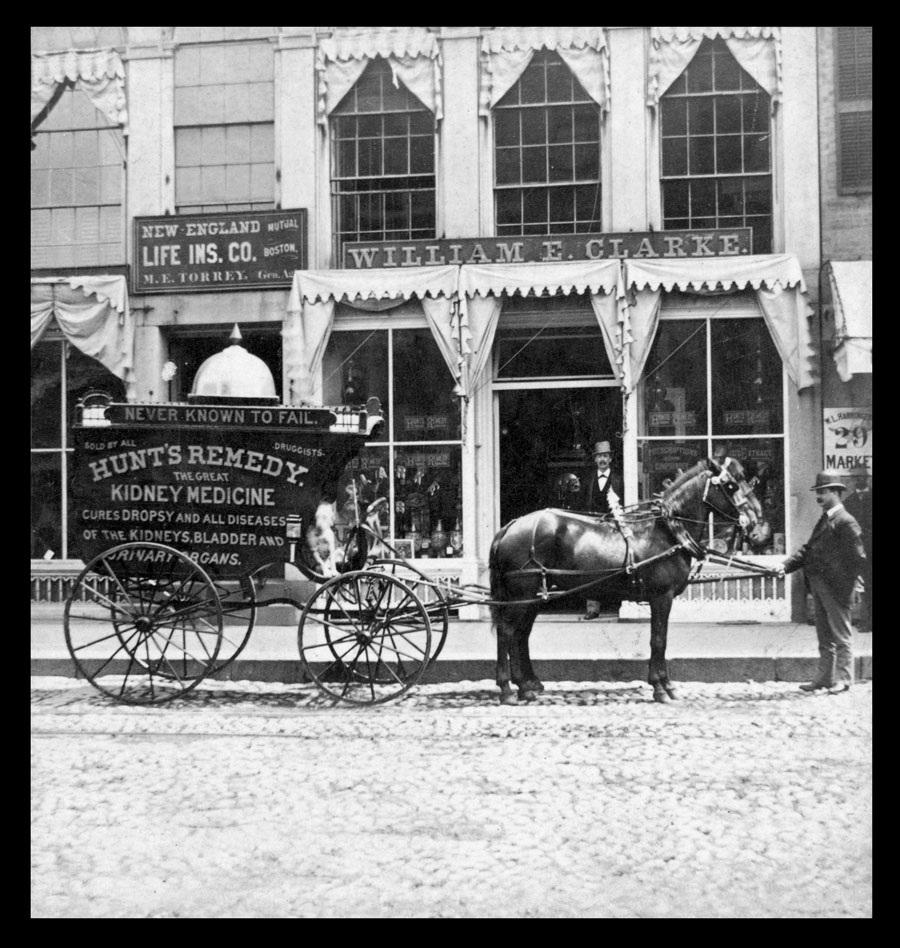 A furniture hauling van, New York City . . .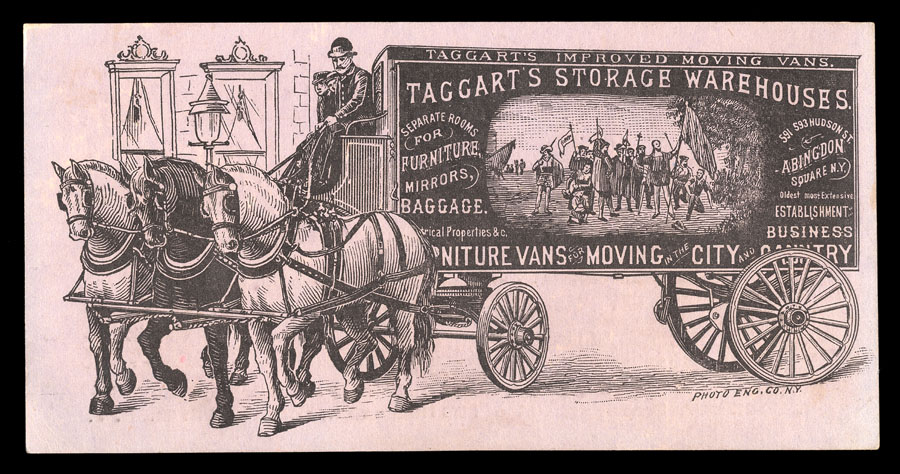 . . . and a dye works wagon, Bloomington, Illinois . . .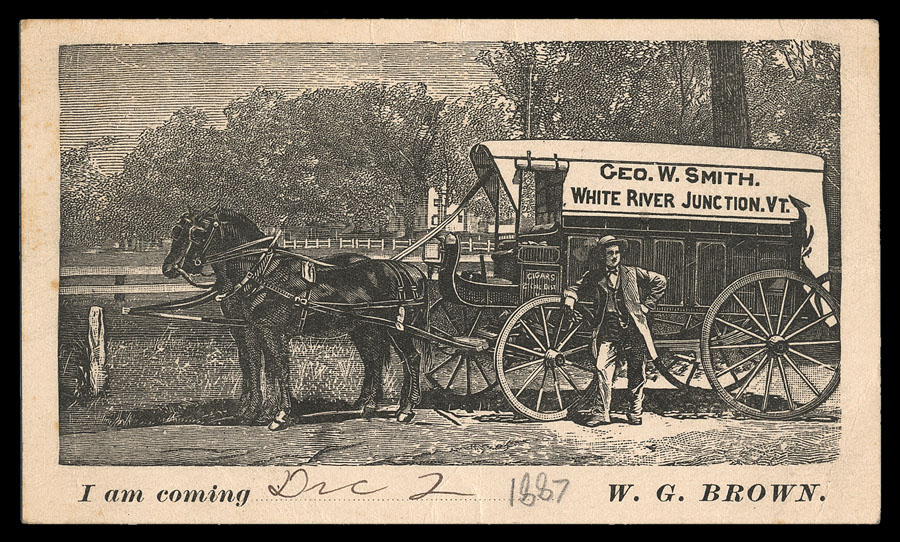 This Alms & Doepke (Cincinnati) vehicle is not for product delivery; rather, it is to deliver customers to the store. It is a shuttle between various places in town, ending each loop at the store, but available to anyone wanting to go from any point to another along the route, for a 3¢ fare. A clever idea, a bit of a public service, and a way to have customers pay to come to the store!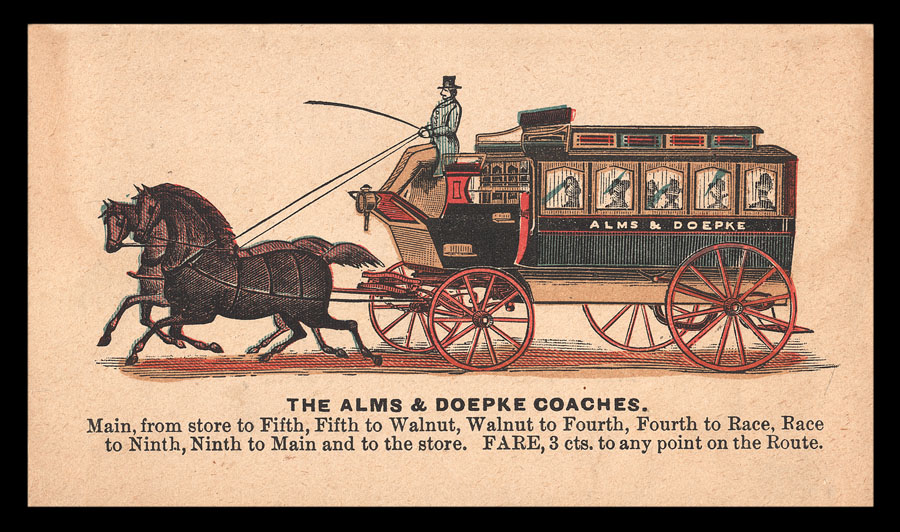 This Emory Family Pills delivery wagon might or might not have actually existed . . .
I suspect that Remington delivery wagons likely did exist, as they appear in various company advertising . . .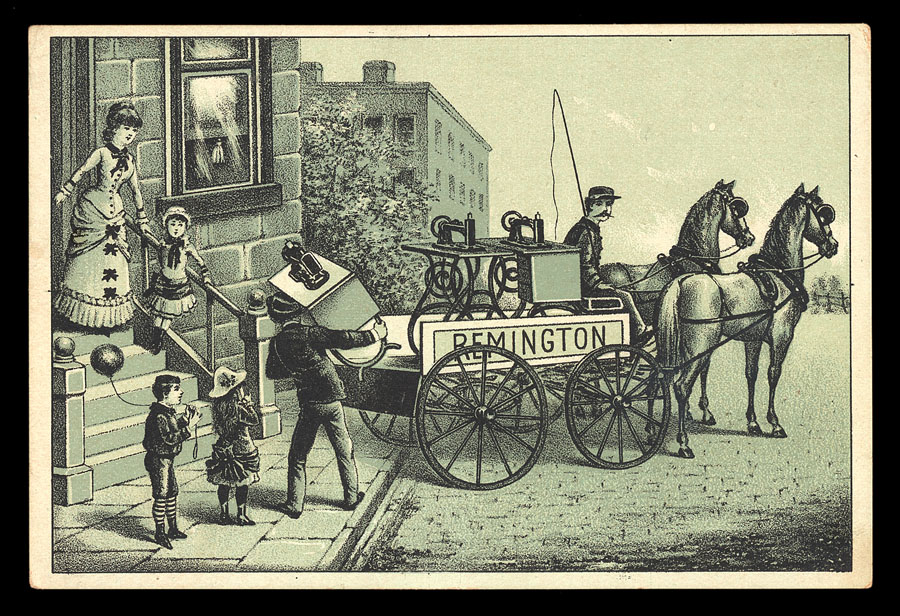 Another sewing machine company . . . .
One little collecting passion of mine is anything and everything connected to the patent medicine maker Dr. Hardy, in the tiny town of Cornish Flat, New Hampshire. In my researches, I found a mention that Hardy's brother operated a patent medicine wagon in Massachusetts made (almost) entirely of glass!! I am still looking for corroborating evidence . . .