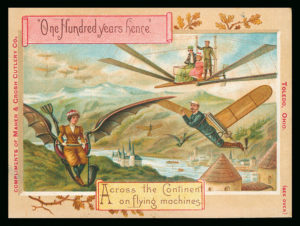 Ephemera Conference 30, 2010
Date: March 19-21, 2010
Location: Old Greenwich, CT
Presentations:
This year's ephemera conference features discussions on a pocket-sized guidebook for African Americans during segregation, a carriagemaker's 1770s daybook, ocean liner ephemera, cards and other ephemera from the Titanic, flying machine imagery, navel ephemera from the 19th and 20th century, incorporating ephemera in coursework, and antiquarian holography. For more see the complete list of topics below.
Gretchen Sullivan Sorin, Ph.D.: "Where Will You Stay Tonight? African Americans on the Road in the Era of Jim Crow" [EJ v13 (2010), 16-27]
Gretchen Sullivan Sorin is Director and Distinguished Professor of the Cooperstown (NY) Graduate Program, a training program for museum curators, educators. Dr. Sorin has more than 30 years of experience in the museum profession, both as a consultant and a guest exhibitions curator. She is the 2009 recipient of the Ephemera Society's Philip Jones Fellowship.
Christie Jackson: "From Brochures to Baggage Tags – Creating the Allure of Transatlantic Travel [EN v28n3 (2010), 1, 13-9]
Christie Jackson's maritime interests began as a child on the Milwaukee shores of Lake Michigan. Water remains a theme in both her professional and recreational interests: undergraduate degree in aquatic biology, certified diver with 400+ underwater hours, stints at Mystic Seaport, Museum of America and the Sea, New England Aquarium, and several months at sea on tall ships. Two Masters degrees were land based: Harvard Graduate School of Education in museum education and, most recently, from the Winterthur Program in American Material Culture. She is the Ruby Winslow Linn Curator at the Old Colony Historical Society in Taunton, Massachusetts.
Barbara Rusch: "The Ephemera of the Titanic – Touchstones to a Tragedy"
Barbara Rusch is a collector and regular speaker on the cultural legacy of 19th – and early 20th-century printed and handwritten documents, including cards, letters, and journals, and celebrities ranging from Queen Victoria to Houdini. But mostly she is fascinated by their many evocative stories. She's President of the Ephemera Society of Canada, a former board member of ESA, and recipient of the Maurice Rickards and Samuel Pepys Awards.
Laurie Parrish: "Fly Away – Images from the John and Carolyn Grossman Exhibit at Winterthur" [EN v28n2 (2010), cover, 16, 17]
Laura Parrish is the manuscripts cataloger in the Joseph Downs Collection of Manuscripts and Printed Ephemera at Winterthur Museum in Delaware. She loves the views from airplanes scooting under the clouds, and has long wanted to fly in a biplane.
Katharine Martinez: "Teaching at Harvard with Ephemera"
Katharine Martinez is the Herman & Joan Suit Librarian and Head of the Fine Arts Library at Harvard University. She has worked in several libraries and museums with significant collections of ephemera, including the Smithsonian American Art Museum, Cooper-Hewitt Museum, and the Winterthur Museum.
Frank DeFreitas: "Antiquarian Holographica"
Frank DeFreitas is a full-time, professional holographer. He is the founding director of holoworld.com, a popular resource for the field of holography on the Internet. He has been collecting holography-related ephemera since 1976, and manages one of the world's largest holdings of its kind, known as Antiquarian Holographica.