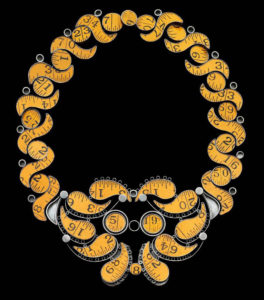 Ephemera Conference 28, 2008
Date: March 14-16, 2008
Location: Old Greenwich, 
Presentations:
This year's ephemera conference features discussions on photograph collections depicting Arizona, unusual collections like papermaking, rulers, and presidential campaign biographies, artifacts from the Steamboat Arabia, Franklin D. Roosevelt's ephemera hobby, scrapbooking with ephemera, Russian avant-garde books, and the rise of popular consumer art following Ben-Hur. For more see the complete list of topics below.
Jeremy Rowe: "Collecting Outside the Box"
Jeremy is the Executive Director of the School of Computing and Informatics at Arizona State University, and works in 3D modeling and visualization to blend historic materials and new technologies.
Panel: Sidney Berger (Papermaking), Beth Carroll-Horrocks (Rulers), Thomas Horrocks (Presidential Campaign Biographies), Susan Strange (Holiday Letters)
Beth Carroll-Horrocks's collection of rulers, begun in 1987, currently numbers more than 5,000 items in a variety of formats, sizes, shapes, and dates, but with a concentration on paper rulers. Special collecting categories include Philadelphia and Boston-area advertising; Smokey the Bear; fish measurement; books, libraries, and museums; peter meters; multi-use rulers; objects made from or decorated with rulers (including fabric and clothing); edible rulers; social or health causes; the metric/anti-metric campaign; Benjamin Franklin; and ruler "jokes." She is the Director of Archives at the American Academy of Arts and Sciences, in Cambridge, MA. Thomas A. Horrocks has a scholarly interest in politics in 19th century America. But his collection of 19th century presidential campaign biographies (winners and losers) breaks traditional bounds of ephemera when it comes to the thousand items about William McKinley. He is Associate Librarian for Collections of Harvard's Houghton Library. About 10 years ago, Susan B. Strange decided holiday letters are today's version of the once-common diary and are therefore worthy of being collected. Thanks to family and friends, she now has a private collection of approximately 2,000 letters from 1948 to the present. She is a reference archivist at the Archives Center, National Museum of American History, Smithsonian Institution.
Elizabeth Isenburg: "Treasure of the Steamboat Arabia"
Elizabeth Isenburg is a social historian, and became keenly interested in history through her father's stories and by participating in living history programs.
Anthony Musso: "Collecting a Collector – FDR, the Philatelist"
Tony Musso, an avid philatelist, has worked for the United States Postal Service for 37 years and has, as a public affairs manager, been involved with numerous programs and events to promote new stamp releases. In addition to his 2006 book, FDR and the Post Office, he wrote Setting the Record Straight, a book on the music of the 1950s and 1960s. He is a weekly columnist for the Gannet Newspapers' Poughkeepsie Journal
Panel of Beginning Collectors: Jared Ash (Russian Design), Doug Clouse (Type Specimens), Evelyn Khoo (Chinese Spirit Papers), Peter Zinman (College Broadsides)
Doug Clouse's Master's thesis of 2007 from The Bard Graduate Center for Studies in the Decorative Arts on the 19th century Philadelphia type foundry of MacKellar, Smiths & Jordan was awarded a Clive Wainwright Award for best thesis. He was drawn to ephemera as evidence of the more unusual type specimens he studied for a book project, completed with Angela Voulangas, Freaks of Fancy, Artistic Printing and the Ethics of Ornament
Jon Solomon: "Ben-Hur – A Prototype for Commercialization" [EN v26n3 (2008), 1, 12-22]
Evelyn Khoo's fledgling collection of Chinese spirit papers is contemporary 'joss' collected from her home country of Singapore in Southeast Asia. These papers, burnt in Chinese religious festivals as 'money for the dead,' range from the more traditional red ink and mulberry paper printed with images of deities to the more 'modern' versions such as joss cell phones and credit cards. She is a Graduate Assistant in the Conservation Unit of the University of Maryland Libraries. Peter Zinman collected his first college broadside while an undergraduate at Dartmouth. He collects all printed materials concerning the hazing of freshmen by sophomores and other inter-class rivalries. Visit Peter's exhibit in Winthrop. Peter is a graduate also of NYU School of Law and Columbia Business School, and is a business executive in Manhattan.