And The Customers Came Knocking . . .
Nineteenth century photographer Edward B. Nock (1833-1910) of Cleveland, Ohio came up with an effective promotional idea. He created or had created an advertising model side wheel steamboat, which he placed in the public square fountain pond in Cleveland in the 1870s. A clockwork windup mechanism powered the 3-foot model to "steam" around the circular pond nearly every day, for more than 20 years. It was wound daily by a man who raised the flag in the park. The model was populated with a number of moving figures, including a photographer or two taking photographs of clients. Nock's name and street address appeared prominently on the paddle wheel cover. It became a well-known tourist attraction.
    Earlier in his life, Nock had worked as a cook on a river steamboat, and it is thought that this was the origin of his promotional idea. It has been said that he also entertained the riverboat's passengers by playing his guitar. An article in Collectors Weekly reported that a photographer offered to teach Nock photography, if Nock would teach him to play the guitar.
    CDV photographs show Nock's boat model clearly, as do stereograph images by another Cleveland photographer, Arthur K. Leibich (1834-1905) whose studio was located on the same street as Nock's, photographer John Teal, and probably others.
    Nock used a wood engraving of his model boat as his advertising backmark on CDVs and cabinet cards.
    Nock had been born in England, and came to the United States with his family when he was 3 years old. He became a photographer when was in his late 20s, and served during the civil war as a civilian cartographer/photographer. After the war he first moved to Youngstown, then opened a studio in Cleveland, where he conducted business until the building burned in 1892, the fire said to have been the result of Nock's studio chemicals exploding.
Edward B. Nock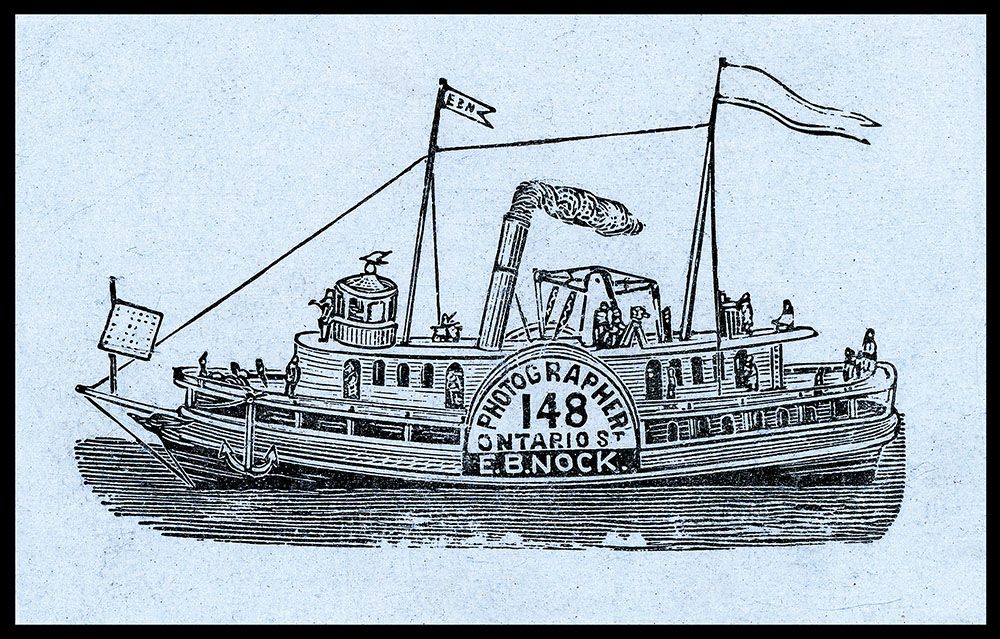 Nock's backmark imprint for CDVs and cabinet cards
John Teal stereoview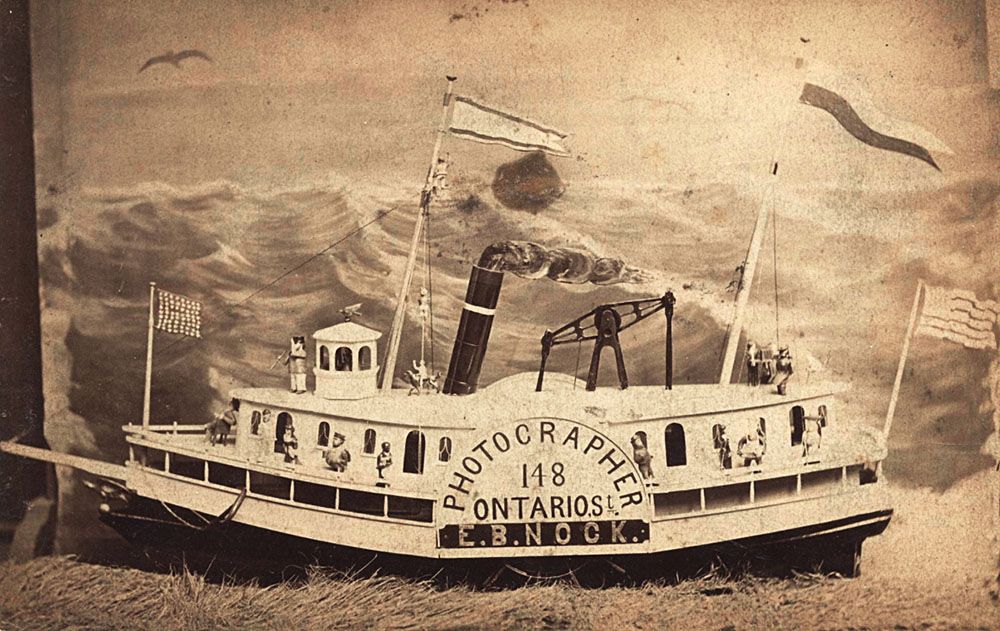 A somewhat different model boat in the photo studio