All is well on the front lines!
By Richard Sheaff
Every once in awhile I come across a particular kind of WWII message-to-the-folks-back-home postcard, a novelty cartoon card with a photograph of the soldier or sailor sandwiched inside, his face appearing in a window.
This one (below), mailed to Syracuse by Private Michael Herezak, stationed at Camp Blanding, Florida, puts his face on a television set . . . a high-tech novelty in the 1940s.
There are roughly 1.2 zillion WWI cartoon propaganda cards picturing Americans striking fear into the hearts of Hitler, Tojo, and Mussolini; this version presents the sailor as a hero heralded around the globe . . .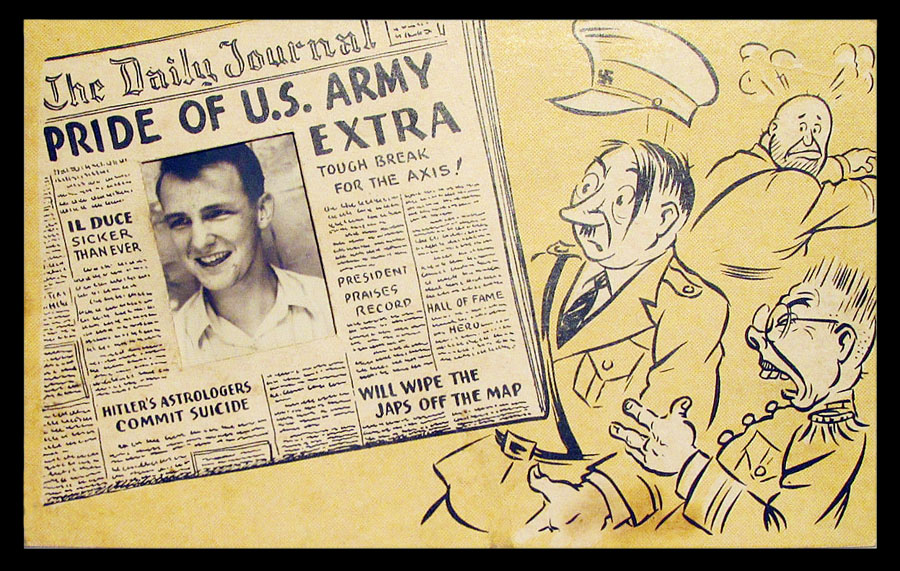 Mailed from Camp Crowder, Missouri by Cpl. A. H. Schreter on June 12, 1944, to his wife in Baltimore.
The humor of this one is not very clear, but nonetheless it serves to assure the folks at home that the soldier seems happy and well . . .
If anyone out there has other examples, I'll be happy to add them to this post.