A Pathetic Letter, 1823
By Richard Sheaff
The field of ephemera includes, of course, manuscript material . . . a particularly rich historical and cultural resource. Below is a heart-wrenching personal situation brought to life by a letter mailed on December 15, 1823, and in the personal note to their son folded inside. A father and mother in Amesbury, Massachusetts, Obadiah and Sally Colby, sent a plea to a son who has apparently forsaken them. They sent it by way of a postmaster, who they happened to know, in a New York town near the town where they believe their son to be living. Here are the folded letter and the front of the enclosed note addressed to their wayward son . . .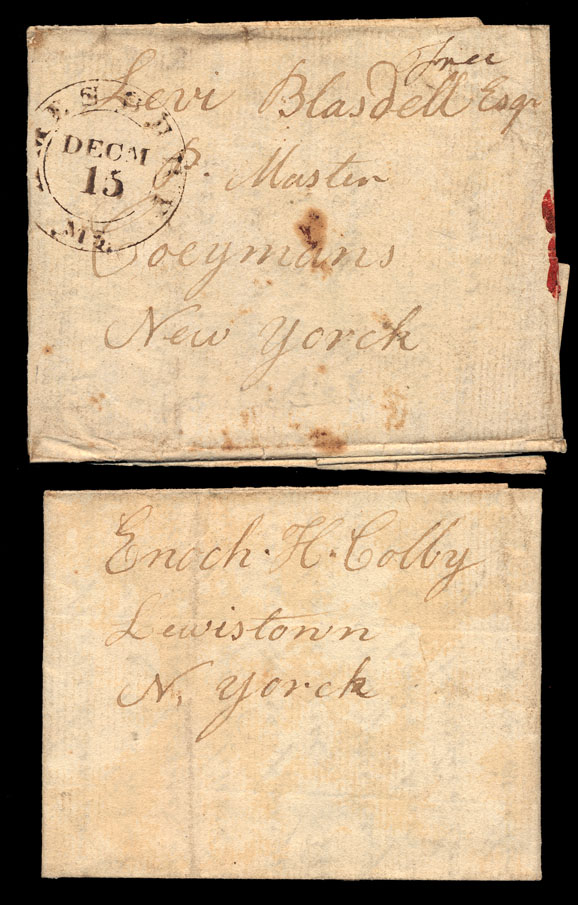 The outer letter is sent "Free", as it is addressed to a postmaster, who could in those days send and receive mail without payment of postage. It is a tiny folded letter, with the note inside folded even smaller.
Obadiah's letter to Postmaster Levi Blasdell, Esq. . . .
The letter reads:
Dear and Kind Sir,
I Have a son if alive Bearing the Name of the Inclosed Letter, which left home and Inlisted in the army, in 1813 and is I Suppose Residing in Lewiston New York. I have written a number of Letters to him, But have had No answers from Him for three years, you will be so good as to put the Letter, into a wrapper and Direct it to the post Master in Lewistown in your own Name, and Desire him to Inquire where he is alive or not and write to you an answer, and forward His Bill to you, and you to me as soon possible, and you will Oblige your Friend and Humble Servant
Obadiah Colby
NB write to me as soon as you receive this, your friends are all well and send their Love to you and family.
Obadiah's note to son Enoch . . .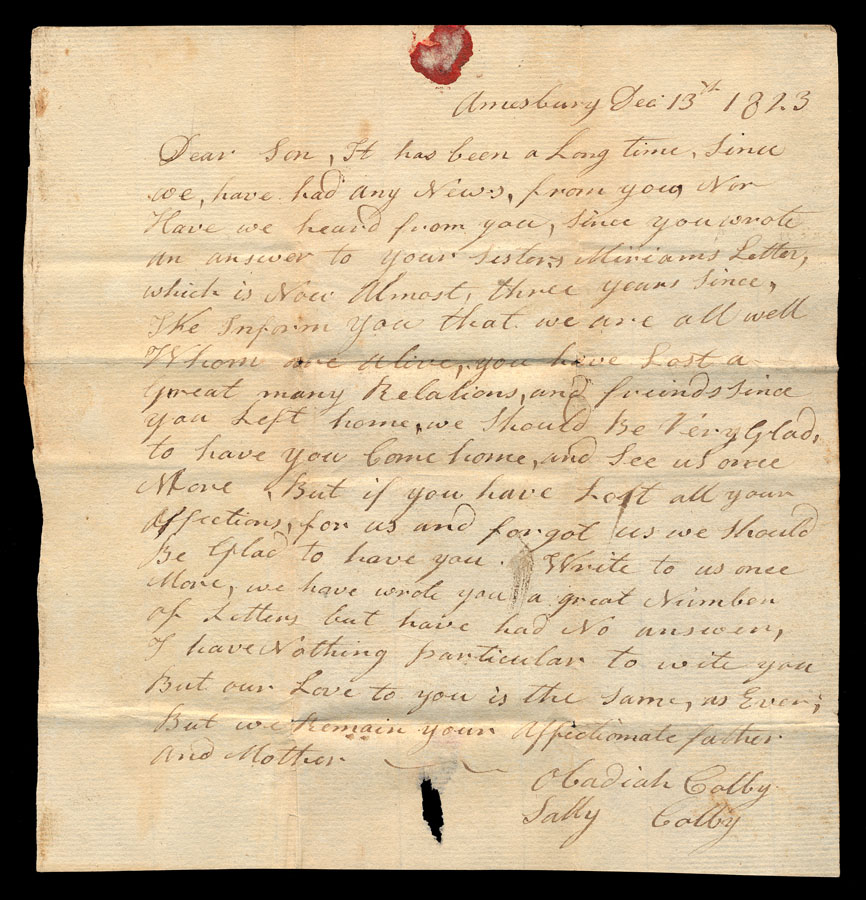 The note inside to their son reads:
Amesbury Dec 13th 1823
Dear Son, It has been a Long time, Since we, have had any News, from you, Nor Have we heard from you Since you wrote an answer to your sister, Miriam's Letter, which is Now Almost, three years since. I inform you that we are all well Whom are alive, you have lost a great many Relations, and friends since you left home, we should be very glad, to have you Come home, and see us once More, But if you have Lost all your affections, for us and forgot us we should be glad to have you Write to us once More, we have wrote you a great Number of Letters but have had No answer, But our Love to you is the same, as Ever, But we remain your Affectionate father and Mother.
Obadiah Colby
Sally Colby
I have not yet fully researched this story (anybody out there interested, have at it!). A quick search through Ancestry.com and other sources leads me to believe that this Obadiah may well be the Obadiah Colby of Amesbury who lived 1763-1832. This was the family homestead . . .
. . . and this Obadiah's tombstone . . .
A sad tale.